How fun is this? I'm going to make these for my son. He is always on the go, visiting friends. Maybe this will make him stay home for like, an hour longer??
S'mores Cookies!!
Ingredients
1 cup graham cracker crumbs
1 1/4 cups flour
1/2 teaspoon baking soda
1/4 teaspoon salt (use 1/2 teaspoon if using unsalted butter)
1 stick (8 tablespoons) butter, softened
1/2 cup brown sugar
1/3 cup sugar
1 large egg
1 teaspoon vanilla extract
12 large marshmallows, cut in half
2 Hershey's chocolate bars (1.55 oz each)
Instructions
Preheat oven to 350 degrees. Spray a mini muffin pan with cooking spray.
In a small mixing bowl, combine graham cracker crumbs, flour, baking soda, and salt. Stir with a wire whisk. Set aside.
In larger bowl, with a handheld electric mixer, blend the butter, brown sugar, and sugar until creamy and combined.
Add in egg and vanilla extract. Mix well.
Dump in the bowl of dry ingredients, mix on low speed just until combined. The dough will be crumbly.
Scoop dough into the mini muffin tins. Fill them full and press down slightly so the dough is even on top. You will have the perfect amount of dough to fill all 24 mini muffin tins.
Bake for 8 minutes. They will look like they're not done, but trust me, they'll be perfect.
Immediately after baking, take a teaspoon size measuring spoon and press into the dough. You want to make an indent for the marshmallow to sit in. Place a half of marshmallow into each indent in the muffin cups. Sticky side of the marshmallow down.
Let cool for 20 minutes.
Place one square of chocolate on top of each marshmallow.
Turn the oven broiler to high. Place muffin tin pan under the broiler for 1-2 minutes. Watch carefully. This toasts the marshmallows fast.
Let cool for about 10 minutes and eat right away for a warm, gooey s'more or let cool completely.
** If you don't want the chocolate very melted (like what is pictured) broil the pan with the marshmallows first, and then immediately after taking out of the oven, press one chocolate on top of each toasted marshmallow. The chocolate is more of a softer chocolate that retains it's shape almost perfectly when you do it this way. __________________________________________________________________________________________
I don't even think we need a recipe for this, do we? Get a packet of gelatin, follow the directions and add every wonderful thing you see here: PS. Oh. My. GAWD.
__________________________________________________________________________________________
Taco Salad! This is great for summer. :)
Meal Prep Taco Salad Lunch Bowls
Meal Prep Taco Salad Lunch Bowls that you can make ahead! These easy taco salads are filled with taco beef, lettuce, cheese, black beans, corn and salsa!
1 pound lean ground beef or ground turkey
2 tablespoons homemade taco seasoning
6 cups chopped romaine lettuce
15 ounce can black beans, rinsed and drained
15 ounce can corn, drained
1 cup grated cheddar and/or jack cheese
Heat a large skillet over medium heat. Add ground beef and sprinkle with salt and pepper. Cook, breaking up the meat, until beef is browned, about 5 minutes. Add the taco seasoning and water and reduce heat to a low simmer. Cook, stirring occasionally, until liquid is mostly gone and meat is cooked through, about 5 minutes. Set aside to cool.
Assemble the salads: Divide lettuce between 4 storage containers, pushing it to the right side of the container. Holding the container so that it tilts to the right, place the beans and corn next to the lettuce. Once the meat is completely cooled, carefully spoon it into the left side of each container.
Add tomatoes on top of the beans and corn, and sprinkle the cheese across the top of the lunch bowls.
Add ¼ cup salsa on top of the taco meat. Seal each container with a lid and store in the refrigerator for up to 3 days.
When ready to eat, shake or stir to combine and enjoy!
_______________________________________________________________________________________________
WHAT?!?! Yes, Kool-Aid Pickles are a thing. Here you go:
Ingredients
1 jar (32 ounces) whole dill pickles, undrained
2/3 cup sugar
You can also try it without sugar
1 envelope unsweetened Kool-Aid mix, flavor of your choice
DIRECTIONS
Drain pickles, reserving juice. In a small bowl, combine the reserved juice, sugar and Kool-Aid, stirring until sugar is dissolved. Set aside.
Slice pickles; return to jar. Pour juice mixture over pickles. Discard any remaining juice. Cover and refrigerate for 1 week before serving. Store in the refrigerator up to 2 months. Yield: 3 cups.
___________________________________________________________________________________________
We all love it. It goes well with tortilla chips and crackers and you can make this in the CROCK POT!
14 1 ounce can artichoke hearts
8 oz Spinach, fresh leaves
1/4 tsp Black pepper, freshly ground
Cook on high in crockpot until bubbly. Serve immediately of course. Enjoy!
_________________________________________________________________________________________________
If your heart's been broken, if you have a hangover, if you want to blow some Weight Watchers weekend points, if you're too skinny, if you JUST WANT SOME MAC N CHEESE! The good kind! Homemade, not from a box. Well, here you go:
Ingredients
12 oz dry macaroni
1/4 cup butter
1/4 cup flour
1 1/2 cups milk
1 cup light cream (about 10-12% MF)
1/2 teaspoon dry mustard powder
1 teaspoon onion powder
salt & pepper to taste
1 can condensed cream of cheddar soup (optional)
4 cups sharp cheddar , divided
1/2 cup fresh parmesan cheese
Directions:
Preheat oven to 425 degrees.
Cook macaroni according to package directions. Drain and run under cold water.
Melt butter over medium heat in a large saucepan. Whisk in flour and let cook 2 minutes while stirring. Slowly whisk in cream, milk, mustard powder and onion powder. Cook over medium heat while stirring until thickened.
Remove from heat and stir in parmesan cheese & 3 cups cheddar cheese until melted. Add soup if using.
Toss cheese sauce & macaroni noodles together. Pour into a greased 9×13 pan. Top with remaining cheese.
Bake 18-24 minutes or until bubbly. Do not over cook. Cool 10-15 minutes before serving.
TIPS:
Cook your PASTA AL DENTE (FIRM) as the noodles cook extra in the sauce and you don't want them mushy.
Don't forget to SALT YOUR PASTA WATER.
While not everyone agrees with RINSING THE PASTA after cooking, in this particular recipe it stops the noodles from cooking and the sauce is created with a texture that pairs perfectly with the rinsed noodles.
A SHARPER CHEDDAR CHEESE will add a stronger cheese flavor.
Pre-shredded cheeses contain additives to keep it from sticking together which affects the way it melts. The sauce is best if you SHRED YOUR OWN CHEESES.
Allowing the baked macaroni and cheese to rest for a few minutes after baking will THICKEN THE SAUCE.
Most importantly of all… DO NOT OVER BAKE THIS RECIPE.
ENJOY!!
__________________________________________________________________________________________
I think I need to make this for my son. He is all about the parm.
I just think he needs to eat this. :)
Spaghetti fritters (Frittelle di spaghetti) (About 8-10 small fritters)
Ingredients
7 oz dried pasta cooked as per package instruction
2 cloves of garlic peeled and finely chopped
A handful of fresh flat-leaf parsley finely chopped
2 eggs
1 egg yolk
2 handfuls of freshly grated parmesan cheese
Crumbled sea salt and freshly ground Black pepper
Olive oil
Optional:
4 oz of bacon or pork belly and/or 2 anchovies diced into small pieces, roughly chopped
Red pepper flakes
Instructions
If you choose to use bacon or pork belly, let them fry in the pan without oil until cooked through and somewhat crispy. Save the oil to pan fry the spaghetti later
Put all your ingredients, apart from the spaghetti and olive oil, into a bowl and mix together. Add your spaghetti to a pan of salted, boiling water and cook as per package instruction. Drain the pasta in a colander and rinse under cold water to cool it down. Once the pasta is cool, snip it with kitchen shears (scissors) into pieces roughly 3 inches long and add them to the bowl. Mix everything well
Pour a little oil into a pan and place on the heat. Then, using a fork, add piles (as big or as small as you like) of the spaghetti mixture to the pan and fry until golden and crisp on both sides. It's delicious to fry the fritters in a slightly hotter pan so they become really golden on the edges but are a bit softer and warm inside. Sprinkle with sea salt before serving and some red pepper flakes if you like______________________________________________________________________________________
Chicken done deliciously!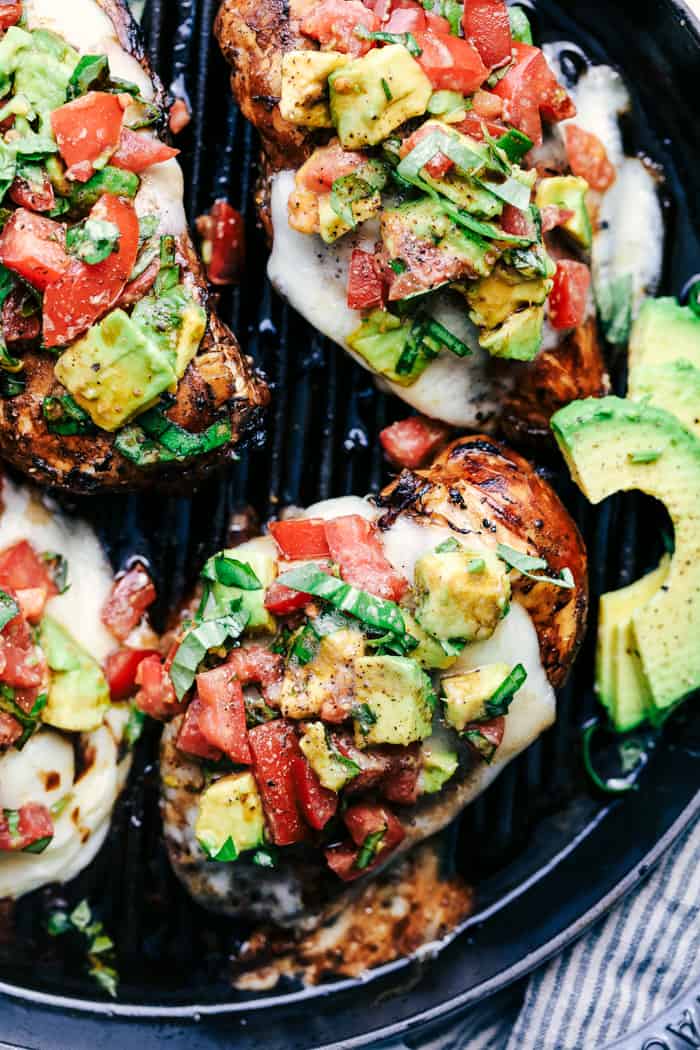 INGREDIENTS
¾ cup balsamic vinegar
¼ cup honey
3 cloves garlic, minced
2 Tablespoons olive oil
2 teaspoons italian seasoning
½ teaspoon salt
¼ teaspoon pepper
4 boneless skinless chicken breasts
4 slices mozzarella cheese
2 avocados, diced
3 roma tomatoes, diced (any tomato will work)
¼ cup fresh chopped basil
salt and pepper
balsamic vinegar for drizzling (optional)
INSTRUCTIONS
In a medium sized bowl whisk the balsamic vinegar, honey, garlic, olive oil, italian seasoning, and salt and pepper. Add the chicken breasts and coat. Marinate for 30 minutes.
Meanwhile, in a small bowl add the avocado, tomato, basil and salt and pepper to taste. Set aside.
Heat the grill to medium high heat. Grill the chicken on each side about 6 minutes or until cooked throughout and no longer pink. Top with mozzarella cheese and avocado, tomato basil mixture. Drizzle with balsamic vinegar and serve immediately.
ENJOY!
_________________________________________________________________________________________________
Well. How pretty is THIS?
6 large bell peppers, any color
1 lb. 93% Lean ground turkey
1 16 oz. jar crushed tomatoes
1 teaspoon Italian seasoning
1 1/2 cups sharp cheddar cheese, shredded
Cut off the tops of the peppers remove the seeds, trim the bottoms to help them sit flat in the skillet and rinse thoroughly. In a large pan boil the peppers for 5 minutes, remove from water and turn upside down onto a paper towel to dry.
Preheat oven to 350 degrees
In a large skillet add the olive oil, garlic and onion, saute until tender. Add the turkey and brown until thoroughly cooked.
Add the crushed tomatoes, rice, Italian seasoning, salt, pepper and 1/2 cup of the shredded cheese and stir until blended.
Fill the peppers evenly with the mixture, place in a lightly greased 10 inch cast iron skillet. Bake uncovered for 25 to 30 minutes. Remove and add the remaining cheese to the top of peppers and bake for an additional 5 minutes or until the cheese is melted.
_______________________________________________________________________________________________
I have to post this. It's too weird not to. Kids, BALOGNA CAKE. YES, balogna cake. dear god.....
Le Recipe. (If you must):
For cake:
Ingredients
12 ounces good quality bologna, sliced
12 ounces room temperature cream cheese (one and one half blocks)
½ package dry ranch salad dressing mix
For cheddar cheese frosting:
8 oz cream cheese, softened
1/2 cups cheese whiz
1 cup ritz cheese crackers
Directions:
For cake:
In a medium bowl and with a spatula combine the dry ranch dressing mix with cream cheese until well blended.
Place the first slice of bologna on a medium serving plate. Spread about a teaspoon of the cream cheese mixture evenly over the top of the bologna. Place another slice of bologna on top and repeat until all of the bologna slices have been used.
Spread the remaining cream cheese over the top and sides, as if icing a real cake. Pipe Cheddar cheese frosting around the base of the "cake" and around the upper rim. Garnish as desired with olives, parsley or green onions.
For cheddar cheese frosting:
Place ritz crackers in food processor until crackers become powder.
Whip cream cheese with hand mixer until fluffy, add cheese whiz and cracker powder; mix until combined.
Fill piping bag and decorate cake!
oy.
______________________________________________________________________________________________
Mexican! That's all you have to say at my house. "Mexcian!" And they are lining up at the door ready to go eat. BUT, let's save some money and make this at home!
Ingredients:
1 lb. extra-lean ground beef
1-1/2 cups Mexican Style Shredded Four Cheese, divided
1 pkg. (1 oz.) TACO BELL® Taco Seasoning Mix
1 cup long-grain white rice, uncooked
1 cup frozen mixed vegetables (carrots, corn, peas)
1 can (14.5 oz.) no-salt-added diced tomatoes, undrained
1 cup TACO BELL® Thick & Chunky Medium Salsa
1 cup fat-free reduced-sodium chicken broth
Directions:
Heat oven to 375ºF.
Brown meat in large nonstick skillet; drain. Return meat to skillet.
Reserve 1 cup cheese for later use. Add remaining cheese and all remaining ingredients to meat; mix well.
Spoon into 13x9-inch baking dish sprayed with cooking spray; cover.
Bake 40 to 50 min. or until rice is tender. Top with reserved cheese; bake, uncovered, 5 min. or until melted
_______________________________________________________________________________________________
Summer Corn Salad. When it's this hot, cool foods are the way to go!
Summer Corn Salad
Serves: 4
Ingredients
3 tablespoons olive oil, divided
1 tablespoon lime juice
¼ teaspoon salt
1½ cups fresh or frozen corn, thawed
1½ cups cherry tomatoes, halved
½ cup finely chopped cucumber
2 tablespoons minced fresh basil
⅓ cup crumbled feta cheese
2 tablespoons Italian dressing (optional)
Instructions
Whisk together 2 tablespoons of oil, lime juice, and salt in a small bowl and set aside.
Cooking corn in a skillet with remaining oil until tender.
Pour corn into a large bowl, cool slightly and add tomatoes, cucumber, and basil. Refrigerate until ready to serve.
Right before serving, drizzle with dressing, feta cheese and Italian dressing (if desired). ENJOY!___________________________________________________________________________________________
I made a variation of this last night. DELICIOUS! Click the photo for the how-to:
Can this be true? Only 8 Smart Points? I'm sharing this not because it is Weight Watchers friendly, I'm sharing this because it looks so good! I was looking for a way to do Hawaiian Loco Moco (Beef patty and gravy over rice with a fried egg on top) and found this. I could make this over the rice instead of the potato and skip the fried egg? You can too! Or eat this over that yummy looking potato in the photo. Carry on my friends! Click the photo for the how-to:
_____________________________________________________________________________________________
When you're on Weight Watchers and everyone is getting fast food. DON'T PANIC. Just print this list and keep it handy. It's surprising what you can get!
Click the photo for the list:
______________________________________________________________________________________
Scahlup puhtatiz. That's what my friend's mom said we were having with our ham. This was in Ohio. Ohioans have a unique little accent all their own. I miss it. Anyway, THIS is what she was talking about I finally found out. Scalloped Potatoes! Delish! Why scalloped? I dont even know. Doesn't matter. Make this and live a life fulfilled.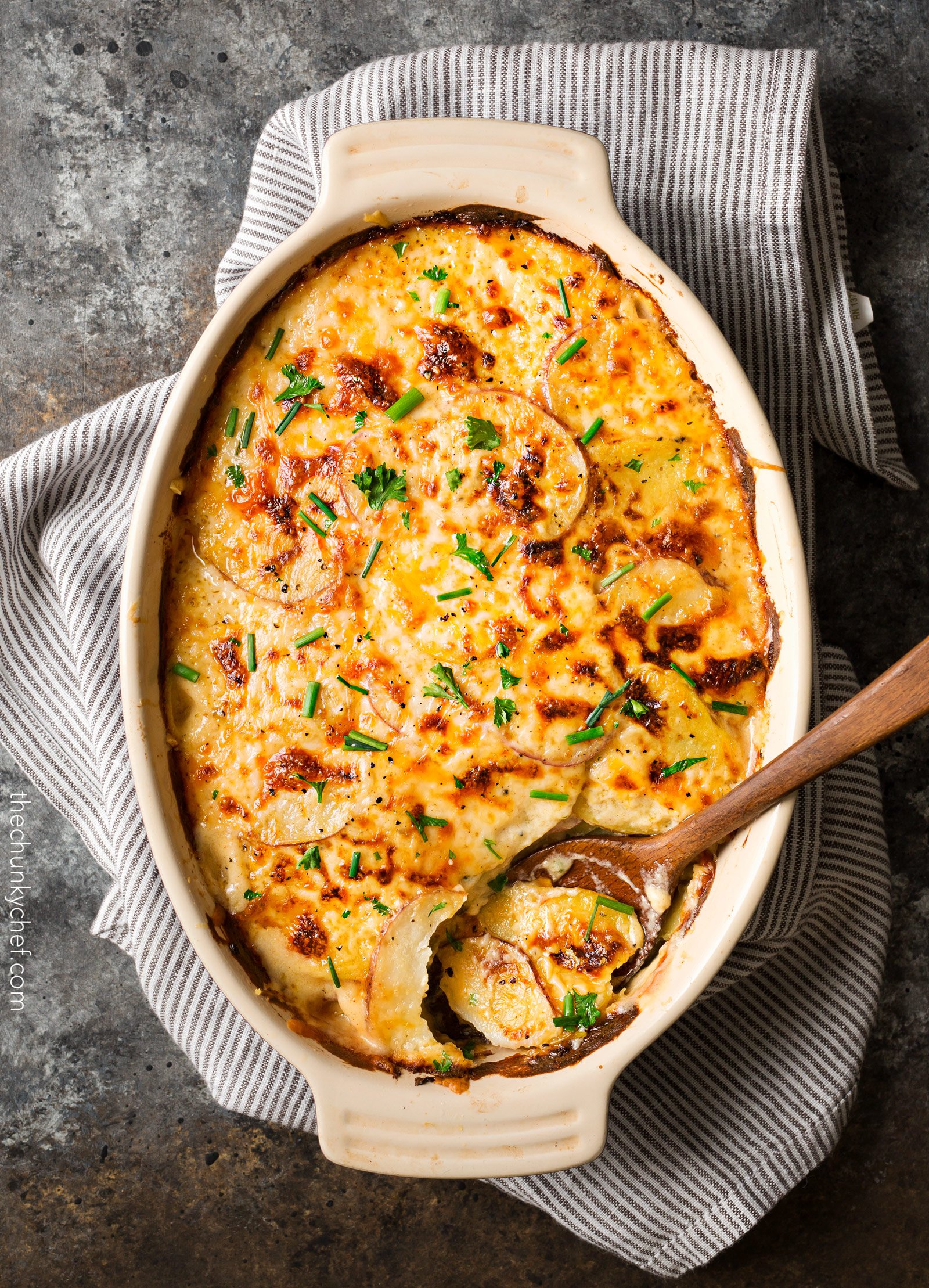 INGREDIENTS
1 1/4 lbs red potatoes, washed, but not peeled
1 1/4 lbs Yukon gold potatoes, washed, but not peeled
1 onion, sliced thinly
3 Tbsp butter
3 Tbsp all purpose flour
2 cloves garlic, minced
1 tsp dry mustard
1/4 tsp dried thyme
1/4 tsp paprika
salt and pepper, to taste
2 cups whole milk
1 cup cheddar cheese shredded
1/2 cup gruyere cheese shredded
1/4 cup Parmesan cheese grated
fresh chives, for garnish
fresh parsley, for garnish
additional 1/4 cup cheddar cheese, shredded
additional 1/4 cup gruyere cheese, shredded
additional 2 Tbsp Parmesan cheese, grated
INSTRUCTIONS
Preheat oven to 400 degrees F. Butter a 2 quart casserole dish and set aside.
Slice potatoes in 1/8" thin slices (I use this mandoline slicer), and set aside.
Add butter to medium saucepan, and heat over MED heat. When butter is melted, add garlic and saute for 1 minute, until fragrant. Add flour, whisk, and cook 1 minute. Slowly add milk, whisking continuously, until no lumps remain. Whisk over MED heat until mixture is thick and coats the back of a spoon.
Turn off heat, add cheeses, dry mustard, thyme, paprika, salt and pepper, and stir until smooth.
Layer half the potatoes and onion slices in prepared casserole dish, pour approximately half of the cheese sauce over potatoes and let sit for a minute. Repeat with remaining potatoes, onions, and cheese sauce.
Sprinkle top of potatoes with gruyere, cheddar and Parmesan. Spray aluminum foil with cooking spray, then cover the casserole dish (sprayed side down). Place casserole on a baking sheet and bake for 60 minutes.
Remove foil and bake uncovered an additional 25-30 minutes. Potatoes should be tender and cheese melted. Broil on HIGH for a minute or two for extra browning and crispiness.
Sprinkle top with chives and parsley and serve.
________________________________________________________________________________________
Pineapple pancakes with coconut syrup? Save me a seat!!
Ingredients
1½ cups crushed pineapple
¼ cup sugar
2 teaspoons baking powder
1 teaspoon baking soda
½ teaspoon salt
2 eggs
¼ cup butter, melted
1½ cups all-purpose flour
½ cup butter
1 cup sugar
1 cup coconut milk
1 teaspoon vanilla
Instructions
In a large mixing bowl, make the pancake batter by stirring together crushed pineapple, sugar, baking powder, baking soda, salt, eggs, and melted butter. Slowly add in flour until you have a nice batter. You want it to remain thin enough to spread slightly, without being runny.
Heat a heavy flat nonstick griddle or skillet over medium-high heat. Pour pancake batter in ¼ cup scoops onto the griddle or skillet. When bubbles start to form on top, flip and cook on the other side until lightly browned. Keep warm until serving (a 200 degree oven and a cookie sheet works great for this).
Make the syrup by melting butter in a medium-size saucepan over medium heat. Stir in sugar, coconut milk, and vanilla. Bring to a boil over medium-high heat and simmer 4 minutes. Store in a heat-safe airtight container in the refrigerator.
Serve pineapple pancakes warm with warm coconut syrup.
___________________________________________________________________________________________
Turn up the metabolism with THESE healthy foods! Click the graphic below to lean more!
_________________________________________________________________________________________
Firecracker Chicken!
Baked Firecracker Chicken
Prep Time: 5 minutes
Cook Time: 25 minutes
Total Time: 30 minutes
Servings:

4
Sweet and spicy baked chicken that is both packed with flavour and nice and light!
Ingredients

1/2 cup hot/chili sauce (such as Frank's Red Hot or Sriracha)
1/2 cup brown sugar or honey
1 tablespoon soy sauce
1 tablespoon cider vinegar
2 cloves garlic, grated
1 pinch red pepper flakes
1 tablespoon oil
1 pound boneless and skinless chicken breasts
salt and pepper to taste
Directions
Heat the hot sauce, sugar, soy sauce, vinegar, garlic and chili pepper flakes in a small sauce pan until the sugar has melted into the sauce.
Heat the oil in a large oven safe skillet over medium-high heat, season the chicken with the salt and pepper, add to the pan and brown, about 3-5 minutes per side.
Transfer to a preheated 400F/200C oven and bake until the chicken is cooked, about 10-15 minutes, basting with the sauce every 5 minutes.
Enjoy with the remaining sauce!
Nutrition Facts
:
Calories 244
,
Fat 6g
(
Saturated 0.8g
,
Trans 0
),
Cholesterol 82mg
,
Sodium 1011mg
,
Carbs 19g
(
Fiber 0
,
Sugars 17g
),
Protein 26g
_______________________________________________________________________________________
Isn't this just PRETTY! Blueberries are in season and they are so delicious. Tip: freeze them in one layer on a large cookie sheet, then you can bag them and have them for months long after. And look at this ice cream we're going to see about today!
YIELD: SERVES 4-6
PREP TIME: 15 MINUTES
TOTAL TIME: 24 HOURS
Blueberry Ice Cream
Creamy homemade blueberry ice cream, bursting with flavor!
Ingredients:
2C blueberries, fresh or frozen
1C granulated sugar, divided
1Tb lemon juice
2C heavy cream
1C whole milk
1/4 tsp salt
1/2 tsp vanilla extract
3 egg yolks
Directions:
Combine 1/4 cup sugar, blueberries and lemon juice in a small saucepan set over medium heat. Bring to a boil and mash berries. Puree blueberry mixture, then strain through a fine mesh strainer. Set aside.
Add 1 cup heavy cream and vanilla to a medium bowl with a mesh strainer set on top.
Combine milk, remaining heavy cream, sugar and salt to a medium saucepan set over medium heat. Stir to dissolve sugar.
Whisk egg yolks in a small bowl.
When milk mixture begins to steam, slowly drizzle 1 cup warm liquid into the yolks, while continuously whisking. Pour egg mixture into sacuepan, followed by blueberry puree. Stir to combine. Continue cooking until mixture coats the back of a wooden spoon or rubber spatula.
Pour through mesh strainer into reserved heavy cream. Stir and cool over an ice bath to room temperature. Cover and chill thoroughly, 4-6 hours or overnight.
Churn according to manufacturer's directions.
Transfer churned ice cream to a freezer safe container. Cover and freeze until solid.
____________________________________________________________________________________________
Fond. I just disovered this is not just a feeling. It is also a word used to describe the browned bits in a pan after sauteeing something in it. But it is pronounced without the D. So just say, "Fahn" and you'll sound all cool among the foodie people. Today, we're going to learn how to deglaze and make a sauce with that stuff called...Fond. Click the photo to learn all about it!
___________________________________________________________________________________________________
Apparently this is a thing. A Canadian thing. I'm making it a Belinda's Jammin Kitchen thing today. Presenting....
POUTINE. Dieters, step aside a sec...
Authentic Canadian Poutine.
cook time 20 minutes
servings maybe 6...but as a side.
Ingredients
4 pounds russet potatoes cut into 1/4 inch matchsticks
2 of your favorite beers I used a Canadian beer (can sub water)
4 tablespoons unsalted butter
1/4 cup flour use a gluten free flour blend if needed
1 shallot finely minced
1 clove garlic minced or grated
3 1/2 cups low sodium beef stock*
1/2 cup stout beer or more beef stock
2 tablespoons ketchup
1 tablespoon balsamic vinegar
2 teaspoons worcestershire sauce
salt and pepper to taste
canola oil for frying
3 cups cheddar cheese curds
Instructions
Place the cut potatoes in a large bowl, cover with beer (or cold water) , and refrigerate for 3 minutes to 2 hours, the longer the better.
Meanwhile, make the gravy. Heat the butter in a large saucepan over medium-high heat. Add flour, and cook, stirring, until smooth, about 2 minutes. Add the shallot and garlic, and cook, until soft, about 2 minutes. Add the beef stock, ketchup, stout beer, balsamic vinegar, worcestershire, and a pinch of salt and pepper, and bring to a boil; cook, stirring, until thickened, about 6 minutes. Keep over the lowest setting while you fry the potatoes. You may need to add more beef stock to thin if the gravy gets too thick.
Pour the canola into a 6-qt. Dutch oven, filling it about 3 inches up the sides. Heat over medium heat until a deep-fry thermometer reads 375 degrees F. Drain potatoes, and dry thoroughly with paper towels. Working in small batches, add potatoes and fry, tossing occasionally, until tender and slightly crisp, about 4 minutes. Remove from the oil and drain on paper towels. Increase the temperature to high, and heat oil until thermometer reads 425 degrees F. Working in small batches, return potatoes to oil, and fry, tossing occasionally, until crisp and golden brown, about 2-4 minutes. Transfer fries to paper towels to drain. Sprinkle the fries with salt.
Immediately divide the fries among serving bowls. Divide the cheese curds over the fries. Now make sure that your gravy is piping hot and pour the gravy over each serving of cheese fries. Dig in immediately... as if you could wait!
________________________________________________________
Oh, I love these. It's like opening a gift. Oh look, It's a Shrimp Boil! I love it, thank you!!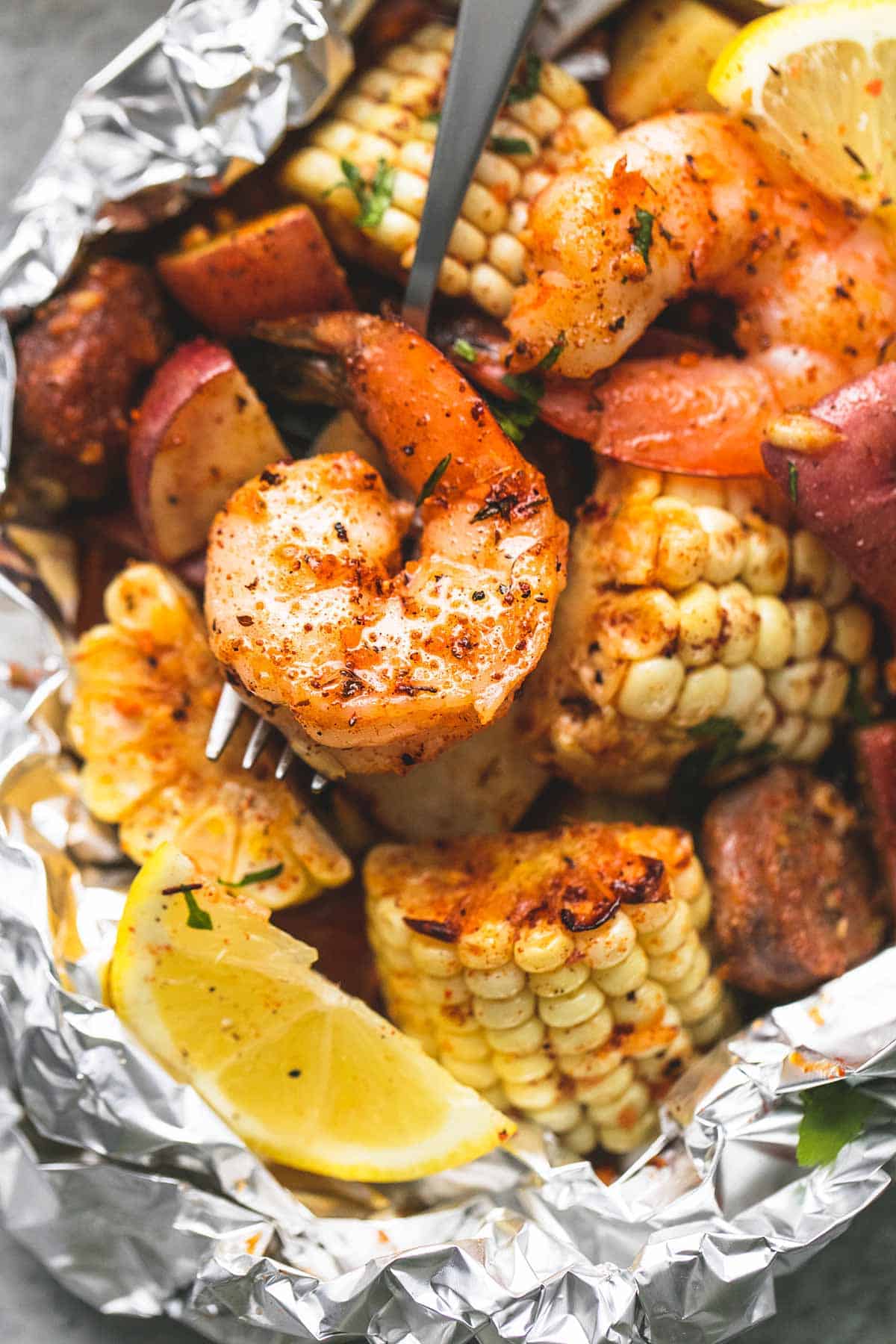 Serves 4
Ingredients
1 pound shrimp, peeled and de-veined
2 ears of corn on the cob, husked
½ pound andouille sausage
1 pound baby red potatoes OR baby yellow potatoes
3 tablespoons old bay seasoning OR homemade seasoning (see note)
salt and pepper, to taste
3 teaspoons minced garlic
juice of ½ lemon, plus lemon wedges for serving
3 tablespoons, melted + ½ cup butter, divided
chopped fresh parsley, for topping
Instructions
Chop corn into thirds, then chop each third in half lengthwise. Chop potatoes into 2 inch pieces. Boil corn and potatoes for 10 minutes. Drain and set aside.
In a large bowl combine shrimp, sausage, corn, and potatoes. Stir together melted 3 tablespoons butter, Old Bay seasoning, garlic, juice from half a lemon, and salt and pepper to taste and pour over shrimp, sausage, and veggies. Stir to coat.
Divide between four 12x12 inch sheets of aluminum foil. Fold edges of foil up around the food to create a closed packet.
Cook on preheated grill over medium-high heat for 8-10 minutes on one side, then flip and cook another 5-6 minutes on the second side. Alternately, you can bake the packets at 400 degrees for 15-20 minutes until corn is tender and shrimp are pink and fully cooked.
While packets are cooking, melt remaining butter in a medium sauce pan over medium-high heat. Once melted, continue to stir gently over medium heat for 3-4 minutes longer until color changes from pale yellow to a golden amber (but be careful not to burn it).
Serve shrimp boil packs topped with chopped parsley, lemon wedges for squeezing, and browned butter for drizzling over the top or dipping.
Notes:
Homemade Old Bay Seasoning: whisk together 1 tablespoon celery salt, 1 teaspoon paprika, ½ teaspoon black pepper, ½ teaspoon cayenne pepper, ¼ teaspoon dry mustard, ⅛ teaspoon each allspice, cloves, and a pinch of ground ginger.
_______________________________________________________________________________________________
For my Weight Watcher friends! Also, if you aren't on weight watchers, you could still use this list as a guide to pad your meals to make them bigger without GETTING bigger. Example. Let's say you ordered lo mein from the chinese place. It's so fattening because they don't care how much oil they're using, they're cooking it up with abandon! So, shred and steam up a bunch of cabbage and add it to the lo mein and it stretches it out to more servings or, bigger servings and lowers each serving's calorie count. Another example, if you're having a gravy heavy meal, throw some cooked green beans (no butter or oil) - they are GREAT with gravy. Here is a list of "0" point Weight Watchers foods that you can use to get creative. Enjoy!
_____________________________________________________________________________________________________
Shrimp and Grits! Let's do this!
2/3 cup dry quick cooking grits (not instant)
1 1/4 teaspoons Kosher salt
3 tablespoons butter, divided
1/4 teaspoon dried oregano
Pinch of red pepper flakes
2 to 3 tablespoons hot sauce
12 ounces medium-size shrimp, peeled and deveined
Get Ingredients Powered by Chicory
Combine water, grits and salt in a medium saucepan. Bring to a boil over medium-high heat; reduce heat and simmer 5 minutes. Stir in milk and 1 tablespoon butter. Continue cooking an additional 1 to 2 minutes or until thickened.
Combine remaining butter and next 6 ingredients (through salt) in a large non-stick skillet; bring to a boil. Add shrimp, and cook 3 to 5 minutes, stirring occasionally, or until shrimp are done. Spoon over grits! MMMMMmmmm.....
____________________________________________________________________________________________________
I MADE VEGETABLE SOUP AND I LIKED IT. Film at eleven.
One tablespoon of olive oil in a pot. When it's hot, throw in some chopped onions and cook until tender. Or until brown/black because you got distracted with laundry before you got back to the stove. No matter, this just adds more flavor. Now, add minced garlic, largely diced zucchini, frozen peas ' n carrots, a can of rotel, the corn cut from one previously cooked cob of sweet corn (we had a leftover one from last night, otherwise just use frozen corn), a cup of water and a knorr vegetable bullion cube. Spices are next. Add what you like. I used a little of each of chili powder, nutmeg, coriander, basil flakes, cayenne for some heat and salt and pepper. I also added a little balsamic vinegar and worchestershire for punch. Let that simmer about a half hour and then add just a splash of cream. Place about a half a cup of cooked rice - your choice: basmati, brown, left over chinese restaurant white, etc... into your bowl and ladle this soup over it and it will be delicious, I swear. The sweet corn and the cayenne made this more than just boring old veggie soup. It made it cool like Fonzi, I swear. Here is a picture of mine as leftovers for lunch just an hour ago:
What IS mustard anyway?
Ever wonder about certain foods or condiments? Click the photo for the complete wiki lowdown:
__________________________________________________________________________________________________
Start the day off healthy AND delicious! Recipe after photo courtesy of shelikesfood.com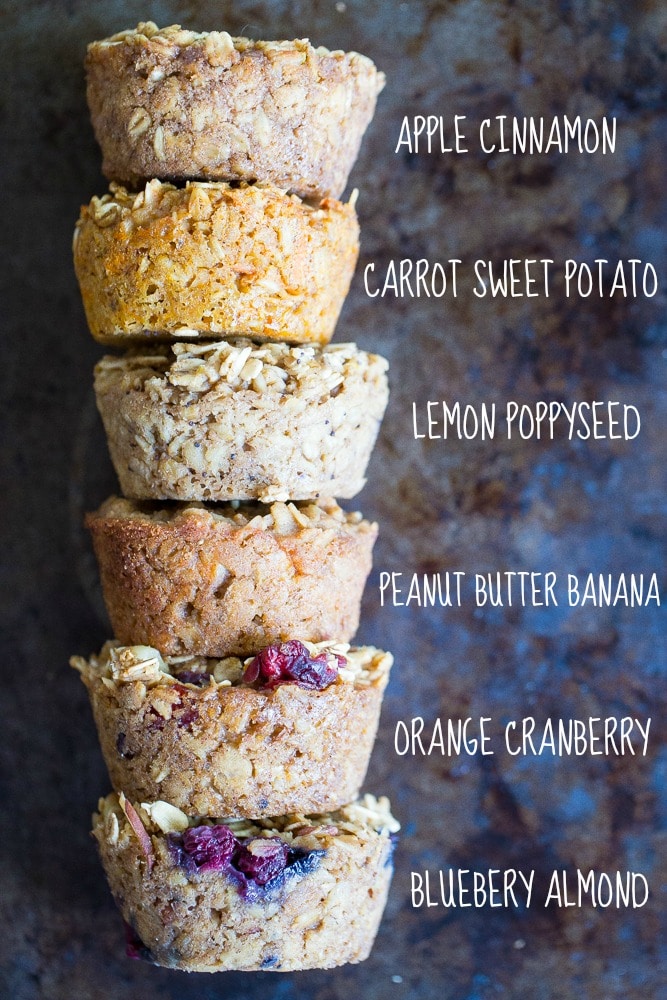 Prep Time: 10 mins Cook Time: 20 mins Yield: 12 Category: Breakfast, Gluten Free, Vegan
4 cups old fashioned oats, gluten free certified if necessary
1½ teaspoon ground cinnamon
2⅓ cup unsweetened almond milk
¼ cup coconut sugar or brown sugar
2 teaspoons vanilla extract
1 cup blueberries, fresh or frozen
Pre-heat oven to 375 degrees F. Add all ingredients to a large bowl and mix well until everything is combined.
Spray a muffin tin with cooking spray and scoop oatmeal mixture in using a large ice cream scoop or a 1/4 measuring cup. The mixture will be a little watery, so it's important to mix well before each scoop to make sure you get an even combination of milk and oats.
Bake oatmeal cups for 20 minutes, or until cooked through.