Summer Food:
4 slice

bacon

3

⁄

4

cup

mayonnaise

1 tbsp

honey

1 tbsp

white sugar

1

salt

, to taste

1

ground black pepper

, to taste

1 package

(20 oz) fresh green peas

2 stalk

celery

, chopped

1

⁄

2

cup

cheddar cheese

, shredded

1

⁄

3

cup

onion

, chopped
Place bacon in a large skillet and cook over medium-high heat, turning occasionally, until evenly browned, about 10 minutes. Drain on paper towels, then crumble. Reserve 1 tablespoon bacon grease.
In a bowl, whisk together mayonnaise, reserved bacon grease, honey, sugar, salt, and black pepper until the dressing is smooth. Combine bacon, peas, celery, cheddar cheese, and onion in a bowl. Drizzle dressing over the salad and toss to coat. Refrigerate until chilled, about 30 minutes.
_____________________________________________________________________________________
Chicken Tacos!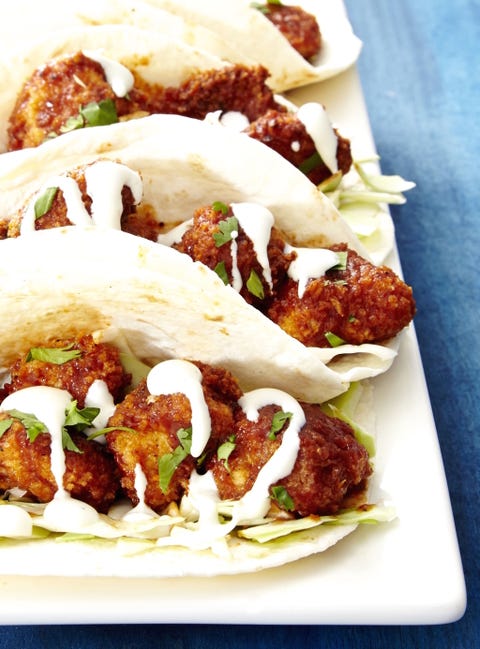 NOTE: You can short cut this with grocery store chicken tenders or fish sticks!
2 lb.
boneless skinless chicken breasts, cut into 2" pieces
Freshly ground black pepper
Juice of 3 limes, divided
1/2
small head green cabbage, thinly sliced
2 tbsp.
freshly chopped cilantro, plus more for garnish
1/4 c.
ranch, plus more for drizzling
Preheat oven to 425° and line a large baking sheet with parchment. In a large resealable plastic bag, combine chicken and flour and shake until fully coated.
In one bowl, add panko bread crumbs and in another bowl, whisk eggs and 2 tablespoons water. Dip chicken in eggs, then in panko until fully coated. Transfer to prepared baking sheet and season generously with salt and pepper.
Bake until golden and crispy, 23 to 25 minutes. Let cool slightly, then transfer to a large bowl.
Meanwhile, in a small saucepan over low heat, warm barbecue sauce, brown sugar, juice of 2 limes, and garlic powder.
Pour sauce over baked chicken.
Make slaw: In a medium bowl combine cabbage, ranch, cilantro, and remaining juice of 1 lime and season with salt.
Serve chicken in tortillas with slaw and drizzled with ranch. Garnish with cilantro.
__________________________________________________________________________________
VEGANS, LOOK AWAY! LOOK AWAY!!!!
We are pan searing some New York Strips today!
Allow the steaks to rest at room temperature for 30-60 minutes if you have time. Preheat oven to 400 degrees convection or 425 conventional.

Trim and season steaks to your taste. I use 7:2:2 (my homemade seasoning). If you don't have that, you can season with a little coarse salt, pepper and granular garlic powder. Or any way you want.

In an oven safe pan (I used my 10-inch cast iron) oven medium high heat melt one tablespoon of butter or use oil. Some prefer an oil at this point due to the lower smoke point of butter, but I have never had a problem.

When hot, sear both sides of the steaks for 2-3 minutes. Sear close to the final color you want.

Transfer pan to the preheated oven. Now comes the variables. The steak thickness, how long you seared and the true temperature of the oven. COOK TO THE TEMPERATURE, NOT BY TIME ALONE. Remember that you may get a few more degrees after removal from the oven.

It took 7 minutes to get to 150(medium). Remove from the oven and allow to rest for a few minutes before serving. COOK TO THE TEMPERATURE, NOT BY TIME ALONG.
The pan does not have to be cast iron. Any oven safe pan that can move from stove top to oven will do. If you don't have that, sear in a stove top pan and move to a different oven safe pan to finish. If using the later technique, I would preheat the oven pan with the oven so the filet goes in a hot pan.
________________________________
All nutritional information are estimates and may vary from your actual results. This is home cooking, and there are many variables. To taste ingredients such as salt will be my estimate of the average used.
If you like this recipe or find it useful, the pleasure of a nice 4 or 5 rating would be greatly appreciated. Rating is done by clicking on the stars above.