Well this doesn't look hateful at all, what with the sunny, happy color and flavor and all.
Start your day with this delicious Pineapple Banana Smoothie. It's a glass of tropical sunshine with a slight and refreshing tanginess.
Combine pineapple, banana, and almond milk in a blender. Blend until smooth.

Remove and serve immediately.
_________________________________________________________________________________________
My own invention! Teriyake shredded chicken with pineapple coleslaw!
And check it out. I brought it to work in my Mr. Lids! haha!
Anyway, this isn't a recipe since I just threw it together, so I'll just tell you how I did it: Bag of coleslaw, mayo, apple cider vinegar and some sugar until it tastes right, then fresh, chopped up pineapple thrown in. Delicious! For the chicken, I shredded the breast meat along with a little bit of the skin from a rotisserie chicken and added cayenne pepper, sesame seeds, and teriyake sauce. Done! I wanted to remain low carb, no grains, so this was it, but if you want to add a baked potatoe or another type of starch, help yourself. Enjoy!!
__________________________________________________________________________________
Is it Yanni or Laurel? Was the dress blue or gold? I've got one for you: Is it a salad or a cheeseburger?
How is a chef salad really a cheeseburger / how is a cheeseburger really a chef salad?
Allow me to demonstrate:
Here is a Chef Salad:
It has lettuce tomato, croutons (bun), dressing (condiments), cheese, and meat.
Here is a Cheeseburger:
It has lettuce and tomato, a bun (croutons), condiments (dressing), cheese and meat.
I'm just sayin'
I know you chose the burger, so may I suggest a Tyson's burger?? Newly opened in the former Cubbies on South College Road across from the Fairy Circle. Just had one in the Jammin Kitchen and it was DELISH!!
__________________________________________________________________________________
Filing this one under "WHUUUUT. I gotta go, there's a snickers bar in a SALAD!"
APPLE SNICKER SALAD
APPLE SNICKERS SALAD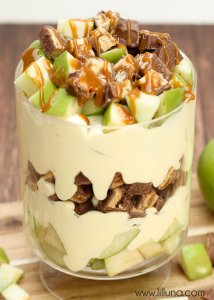 4 large green apples
4-5 snickers bars
8 oz cool whip
1 small box vanilla instant pudding mix
½ cup milk
Caramel
________________________________
Parmesan Garlic Roasted Baby Potatoes
By Monica Servings: 4-6 servings
Ingredients
1/2 cup finely grated Parmesan cheese with a sand consistency (don't use shredded or Microplaned Parmesan cheese)
1/2 teaspoon garlic powder
1/4 teaspoon paprika
1/2 teaspoon dried oregano
1/2 teaspoon kosher salt
3/4 teaspoon freshly ground black pepper
2 tablespoons olive oil
1 1/2 lbs baby potatoes, halved (1.5-2 inch diameter; approx 20-22 potatoes)
FOR DIPPING (optional)
sour cream or Greek yogurt (or a half-and-half mixture)
chopped scallions or chives
Preheat oven to 400 degrees F.
In small bowl, combine grated cheese, garlic powder, paprika, oregano, salt, and pepper, stirring with fork until mixed.
Pour olive oil into 9x13 glass baking dish. Tilt dish around until olive oil evenly coats entire bottom.
Carefully and evenly sprinkle cheese mixture over bottom of pan. (Don't dump it in and then try to spread it out. Once it touches the olive oil, it becomes almost impossible to spread the cheese out evenly--it will clump. It works better to sprinkle slowly and evenly over the entire surface so that no spreading is necessary.)
Arrange potatoes in a single layer, cut side down, on top of cheese mixture. Press down to insure potatoes are flat and in contact with cheese layer.
Bake for 30-40 minutes, or until cheese is browned and potatoes are soft when pressed or pierced with fork. Remove from oven and leave potatoes to rest in pan for 5 minutes. Remove potatoes from pan using a small spatula, being careful to keep the cheese layer intact on the cut side of potato. (Use a paring knife to cut cheese between the potatoes, if necessary.)
Arrange on serving platter cheese side up. Serve with sour cream or Greek yogurt, (or a half-and-half mixture) sprinkled with chopped scallions or chives, if desired.
TO REHEAT LEFTOVERS: Place potatoes cheese side up in a med-hot non-stick skillet to heat the bottom side. In 1-2 minutes, flip them over with tongs--cheesy side down--and cook another 1-2 minutes until heated and crispiness is restored. Be careful not to let them burn; they reheat quickly.
NUTRITIONAL INFORMATION for one prepared potato (2 halves): 45 calories, 2.0g fat, .6g sat.fat, 2mg cholesterol, 118mg sodum, 142mg potassium, 5.6g carbs, .9g fiber, 1.5g protein.
Weight Watchers SmartPoints: 1 (for one prepared potato--2 halves)
_______________________________________________________________________
We all need this in our lives. For our health!
This iced golden milk turmeric latte…
builds immunity
supports the liver
helps treat colds and coughs
supports digestion
purifies the blood
supports your treatment of autoimmune disease
and more.
Iced Golden Milk Turmeric Latte (Paleo, Vegan)
1 1/2

cups

coconut milk from carton

vanilla or plain is fine

1 1/2

cups

unsweetened plain almond milk

3

Tbsp.

maple syrup

divided if you'd prefer an "ombré" look

1 1/2

tsp.

ground turmeric

1/4

tsp.

ground cinnamon

1/4

tsp.

ground ginger

Pinch

ground black pepper

Pinch

ground cardamom

1/4

tsp.

vanilla extract
Combine all ingredients in a cocktail shaker with ice and shake well. Pour over ice and enjoy!

If you'd like to pour the "golden milk" part over plain milk, like in my photos, combine the almond milk with 1/2 tablespoon maple syrup and stir well. Pour over two glasses filled with ice. In a cocktail shake, combine the coconut milk, all the spices, 2 1/2 tablespoons maple syrup, and plenty of ice. Shake well and pour over cups filled with ice and sweetened almond milk. Enjoy!
_____________________________________________________________________________________________
Mr. Lid. This will save your sanity, your marriage, your storage space, AND your food. I love a good infomercial product. Velvet hangers from the mop lady - GENIUS! These food containers with ATTACHED LIDS-GENIUS! I just bought this set for 34.99 with free shipping from Amazon. You can also sometimes find them at the big box drug and superstores in the As Seen On TV section. I liked this deal though. I had a set of these before. My husband inadvertentely threw them away. It's a long and sordid tale involving a serious marital spat with shouts of, "WHAT WERE YOU THINKING!?" and "WHAT HAVE YOU DONE!!" and "THOSE ARE MR. LIDS< ARE YOU INSANE?!?!" Anyway. Calm is now restored to the universe at the Keller household. Thank you. Mr. Lid. Click the photo below if you would like to order the same set I just did. XOXOX!!!
Zucchini Boats! These are fun. Good for you and delicious too! More parm, please!
Whole30 Italian Beef Zucchini Boats
Only 5 ingredients for these easy and flavorful Whole30 Italian Beef Zucchini Boats! They make a simple gluten free, paleo, and low carb meal perfect for an effortless weeknight dinner or meal prep!
Preheat oven to 350 degrees Fahrenheit. Pour 1/2 cup pasta sauce in a large glass baking dish and set aside.

Make the zucchini boats. Cut bottom and top off the zucchini and then cut in half lengthwise. Using a spoon, hollow out the center of the zucchini halves, leaving about 1/4-1/2 inch shell. Place flesh side up in glass baking dish.

Place a large sauté pan over medium heat. Once it gets hot, about 30 seconds, add in ground beef, breaking it up with a spoon. Sauté 4-5 minutes until browned. Add in diced tomatoes, Italian seasoning, and 1 cup pasta sauce. Stir to combine and remove from heat once incorporated.

Stuff the zucchini boats with the beef dividing it up equally, about 1/2 cup per each boat. Cover pan with foil and bake for 30 minutes until zucchini is cooked through, but still has some firmness. Top with optional toppings and enjoy!
Nutrition Facts
Whole30 Italian Beef Zucchini Boats
Amount Per Serving (1 boat)
Calories

196
Calories from Fat 108
* Percent Daily Values are based on a 2000 calorie diet.
_____________________________________________________________________________________
Well. How can this be a bad thing? It can't. Let's have it this weekend!
1-16

oz

bag coleslaw mix

1-8

oz

can of crushed pineapple; thoroughly drained

3

tbsp

. white onion; finely chopped