Speaking of salads. They don't have to be boring! Keep a bunch of these things in your fridge's deli drawer and you're making great salads in no time:
___________________________________________________________________________________________
Here is the salad I was going to do yesterday but went all SQUIRREL when I saw the Salted Pretzel Sausage Bites. Something green and delicious! There ARE people who like kale. I am one of them. I love it raw, I love it cooked into soups. It's a dark leafy green and it is good for you. Milder than spinach, and cheap. Seriously, do the bunches have to be so BIG?! Anyway, check this recipe. I'm excited enough to stop at the store for an avocado and some lemons for this:
LEMONY KALE CHICKPEA AVOCADO SALAD
Gluten-free, vegetarian, dairy-free, and no added sugars
15-minutes…couldn't be easier to assemble
Uses common ingredients found in most grocery stores…and pantries
NO cooking required
Loaded with nutritious ingredients
Zingy flavors…combined with soft and crunchy textures. Boom!
Holds up well in the fridge for a few days, but doesn't last that long around me.
HERE ARE THE INGREDIENTS YOU NEED FOR THIS SALAD:
lemon juice
garlic
salt and pepper
olive oil
kale (Dino or curly)
can of garbanzo beans
ripe avocado
That's it!
This recipe is crazy-easy and can literally be thrown together just before serving, or a day in advance.
It's a great side dish during dinner, or packs nicely into your weekday lunch.
_______________________________________________________________________________________________
Whoa!! Hold up! I WAS going to do some kinda SALAD. Aren't you glad I changed my mind wonce I spied this?? Game day is coming up after all! (And even in February you can make these for Oscar night and put little stars on them!! Okay, anyway!) Salted Pretzel Sausage Bites!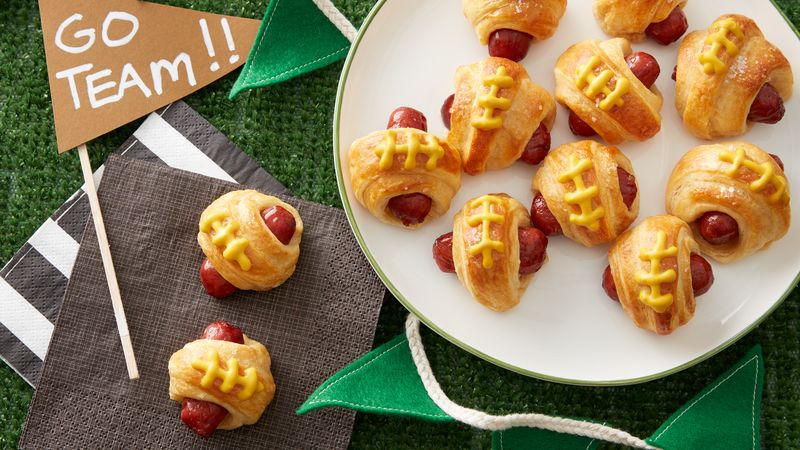 Ingredients
1 can (8 oz) Pillsbury™ refrigerated crescent dinner rolls SAVE $
24 cocktail-size smoked link sausages (from 14-oz package)
1 egg SAVE $
1 can or bottle (12 oz) Pilsner beer
1/4 cup baking soda
1/8 teaspoon coarse (kosher or sea) salt
Yellow mustard, from a squeeze bottle
Get Ingredients
Powered by Whisk.com
Steps
Heat oven to 375°F. Line large cookie sheet with cooking parchment paper.
Separate crescent dough into 8 triangles. Cut each triangle lengthwise into 3 narrow triangles. Place 1 sausage on shortest side of each triangle. Roll up, rolling to opposite point.
In small bowl, beat egg and 1 tablespoon of the beer with whisk until thoroughly blended; set aside.
In large microwavable bowl, microwave remaining beer uncovered on High 1 minute 45 seconds or until hot. Slowly add baking soda, stirring until baking soda is completely dissolved. Using metal tongs, dip each rolled crescent, one at a time, into beer and baking soda mixture. Remove, and place on cooling rack. Let stand at room temperature about 5 minutes.
Brush crescents with beer and egg mixture, and sprinkle with coarse salt. Carefully place on cookie sheet. Bake 12 to 15 minutes or until tops are deep golden brown. Cool 2 minutes. On each, squeeze 1 line of mustard crosswise and 3 lines lengthwise to make laces of football. Serve warm.
_________________________________________________________________________________________________
I understand these are far superior that the store bought ones. Let's try home-made pita bread!! Directions mention a mixer with a dough hook. I don't have one. If you don't have one, don't cry. How did the Colonial people make bread then?? BY HAND WITH A WOODEN SPOON. Fear this recipe not. Put on some music, or stream a show if your TV is in the kitchen and let's make home made Pita Bread!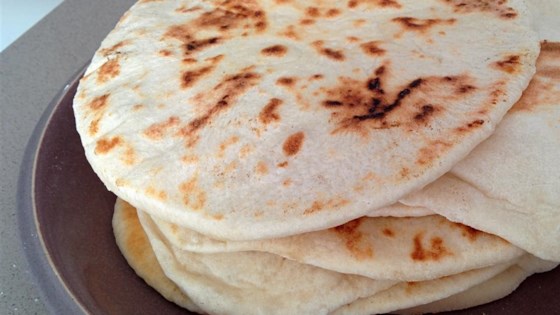 Ingredients
8 servings 187 cals each
1 (.25 ounce) package active dry yeast
1 cup warm water (90 to 100 degrees F/32 to 38 degrees C)
1 cup all-purpose flour
1 1/2 tablespoons olive oil
1 3/4 teaspoons salt
1 3/4 cups all-purpose flour, or more as needed 1 teaspoon olive oil, divided
Directions
Place yeast into the work bowl of a stand mixer and add 1 cup warm water and 1 cup flour.
Whisk together and let stand 15 to 20 minutes for mixture to rise and make a loose sponge. Mixture will bubble and foam.
Pour 1 1/2 tablespoons olive oil and salt into sponge.
Add 1 3/4 cup flour.
Mix at low speed, using a dough hook attachment, until dough is soft, supple, and slightly sticky. If dough sticks to the sides of the bowl, add up to 1/4 cup more flour, a little at a time.
Knead dough with machine on low speed until slightly springy and still soft, 5 to 6 minutes. Turn dough out onto a floured work surface and form into a ball.
Wipe inside of bowl with 1/4 teaspoon olive oil. Turn dough around in bowl to cover with a thin film of oil; cover bowl with foil and let sit until dough has doubled in size, about 2 hours.
Remove dough from bowl and place onto a floured work surface. Lightly pat into a flat shape about 1 inch thick. Use a knife to cut dough into 8 pieces.
Form each piece into a small round ball with a smooth top, pulling dough from the sides and tucking the ends underneath the bottom.
Cover dough balls with lightly oiled plastic wrap and let rest for 30 minutes.
Sprinkle a small amount of flour on a work surface and top of a dough ball; gently pat dough ball flat with your fingers, forming a flat, round bread about 1/4 inch thick. Let dough round rest for 5 minutes. Repeat with remaining dough balls.
Brush a cast-iron skillet with remaining 3/4 teaspoon olive oil and place over medium-high heat. Lay pita bread into hot skillet and cook until bread begins to puff up and bottom has brown spots and blisters, about 3 minutes. Flip, cook 2 more minutes, and flip back onto original side to cook for about 30 more seconds. Pita bread will begin to puff up and fill with hot air. Stack cooked breads on a plate; when cool enough to handle, break breads in half and open the pocket inside for stuffing.
________________________________________________________________________________________________
I have a pineapple. Standing in my kitchen looking all pretty and fresh. But it spoke to me last night and said: "Pineapple cake with cream cheese frosting." Instead of screaming that a pineapple just talked to me, I instantly agreed and replied, "Good idea!"
Pineapple Pecan Cake with Cream Cheese Frosting is simple and quick recipe for delicious, homemade cake from scratch, with ingredients that you already have in pantry.
Ingredients
2 cups Flour
2 cups Sugar
2 teaspoons Baking Soda
2 Eggs
1 (20-ounce), can Crushed Pineapple With Juice
1 cup Chopped Toasted Pecans (optional)
8 oz Cream Cheese, Softened
1 stick Butter, softened
2 cups Powdered Sugar
1 Tablespoon Vanilla
Instructions
In a medium bowl, whisk together the eggs, crushed pineapple with juice and chopped pecans(toast 'em first).
Mix the flour, sugar, and baking soda in a large bowl.
Stir in the egg mixture. Stir gently, just until combined.
Pour into a 9×13 greased baking dish. Bake at 350F for 30 to 35 minutes till toothpick inserted in center comes out clean. COOL COMPLETELY.
Combine all frosting ingredients together (cream cheese, butter, powdered sugar and vanilla) with an electric mixer until smooth. You may need to add a little milk to make it spreadable if your butter wasn't soft enough.
Spread frosting evenly on top of cake. Cut the cake into any size you like.
___________________________________________________________________________________________
Let's do something new and modern! It may require a trip to a market that sells things like Chickpea flour, but maybe these will be worth it! Gluten free, and low calorie too!
Chickpea crepes - High Protein Wraps
Chickpea crepes are delicious thin vegan and gluten free protein wraps made with only 3 ingredients: garbanzo bean flour, water and salt. An easy, healthy blender recipe perfect for a savory crepes for breakfast. Delicious with mushrooms, spinach or grilled vegetables.
In a blender, add the garbanzo bean flour, water, salt and spices (if used, the authentic French chickpea crepe use the spices)

Blend on high for 30 seconds - 1 minute or until no more lumps appears. It will form a very liquid yellowish batter.

Transfer into a bowl. Set aside at room temperature for 30 minutes before cooking.

Warm a crepe pan of 10 inches diameter (26 cm), under medium/high heat, and use an absorbent paper to rub the coconut oil on the pan and grease the pan.

Scoop 1/3 cup of the crepe batter into the frying pan and tilt the pan with a circular motion to ensure that the batter coats the surface evenly. The batter is very liquid and that is what you want. The thickness of the crepes will depend on how much batter you use for each. Usually 1/3 cup is what you need to make a 10 inches (26 cm) crepe but you may want to add a little more to make a thick crepe. I love mine super thin as it gets crispier.

Cook the crepe until the sides start to crisp up and lift off easily from the frying pan. It should take about 2 minutes each, over medium heat.

Loosen with a spatula and flip over to cook the other side. Both sides should be lightly brown, and the crepes should be crispy on the sides and softer in the middle.

Repeat for the next crepe until no more batter left. I made 5 crepes with this recipe.

To serve fill each crepes with the savory filling of your choice. I spread hummus, mashed avocado, grilled zucchini, grilled eggplant, fresh cherry tomatoes, raw chickpeas and a drizzle of Dijon mustard.
Storage: I store my crepes in the fridge for up to 4 days. Simply place the crepes on a plate, cover with a piece of plastic wrap/film to avoid them to dry out. Rewarm on a crepe pan or fill with your favorite filling, roll and warm up in a sandwich press.
Garbanzo flour is also known as chickpea flour. It is a gluten free flour.
_______________________________________________________________________________
Recipe calls for 4 and you only want it for two? Here's a handy chart for conversions. Every cook needs this in the kitchen. Sorry there is no food today, but scroll on down we keep everything we've posted thus far, so there is a LOT of food and recipe ideas. Meantime, here is this handy conversion chart to help you make it right for any amount of servings!
_______________________________________________________________________________________________
Sweet Potato Latkes! I love these. Paleo and whole 30 freindsly too. AND there is an option to bake them as well as fry:
Ingredients
2 medium (1 pound) sweet potatoes, peeled and shredded

2 medium green onions, finely chopped (2 tablespoons)

1/4 cup Gold Medal™ all-purpose flour

1/2 teaspoon salt

1/8 teaspoon pepper

1 egg, slightly beaten

1 cup sour cream

Pecans, for garnishing
Directions
1 Mix all ingredients except sour cream and pecans.
2 Oven Directions: Heat oven to 400°F. Generously grease cookie sheet. Drop sweet potato mixture by teaspoonfuls onto cookie sheet; flatten slightly. Bake 12-15 minutes, turning once, until golden brown.
3 Skillet Directions: In a 12-inch skillet, heat 1/4 cup vegetable oil over medium-high heat. Drop sweet potato mixture by teaspoonfuls into skillet; flatten slightly. Cook 4-5 minutes, turning once, until golden brown; drain on paper towels.
4 Top with sour cream. Garnish with pecans.
______________________________________________________________________
Say no to the donut. I know it's hard, but try. Do this instead! I had just an apple with peanut butter with my coffee this morning and it was really good. Here, they have added other goodies to slices of apple. Check it ou!: _______________________________________________________________________________________
Doesn't this look so good. Full of flavor, but not so crazy fattening. WIN!