Got frozen chicken strips? Make these!
Sriracha Almond Crusted Chicken Strips
Author: Trish - Mom On Timeout
⅔ cup Blue Diamond Sriracha Almonds
½ teaspoon freshly ground pepper
2 tsp extra-virgin olive oil
1.5 chicken breasts, cut into strips OR chicken tenders
Line a baking sheet with foil. Set a wire rack on the baking sheet and coat it with cooking spray.
Place sriracha almonds in a food processor and pulse until the almonds are finely chopped.
Pour into a shallow bowl and add the flour, garlic powder, salt and pepper. Toss with a fork to combine. Coupons
Slowly drizzle in the olive oil using a fork to stir as you drizzle.
Whisk the egg whites in a second shallow dish.
Coat the chicken strips with the egg whites and transfer to the almond mixture; turn to coat evenly.
Place the strips on the prepared rack and coat with cooking spray; turn and spray the other side.
Bake the chicken strips until golden brown, crispy and no longer pink in the center, 15 to 20 minutes.
Let cool slightly before serving.
__________________________________________________________________________________________________
Ever been to Cheesecake Factory? I haven't! I hear it's fat heaven on a stick though. And look! I found a Cheescake Factory copy cat recipe for this delicious looking dish:
A lightened up version of the Cheesecake Factory's Creamy Sundried Tomato Fettuccine pasta dish!
Servings: 4
INGREDIENTS
3/4 pound dried fettuccine
1 cup reserved pasta water
4 tbsp olive oil
5 cloves garlic, minced
1/2 cup sundried tomato halves, sliced
1: 14.5 ounce can of petite diced tomatoes, drained
3 tbsp tomato paste
1/2 tbsp granulated sugar
1/2 cup plain non-fat Greek yogurt
1/4 cup light sour cream
1 1/2 cups baby spinach
Salt & pepper, to taste
Crushed red pepper flakes, optional
Report this ad
INSTRUCTIONS
In a large stockpot, bring water to a boil, add 1 tbsp. of olive oil then add your fettuccine. Cook according to direction on the box then drain (reserving 1 cup of the pasta water) and set aside.
In a small bowl, combine the plain Greek yogurt and light sour cream, mix together with a spoon and set aside.
While the pasta is cooking, in a large skillet, add the remaining 3 tbsp. of olive oil to the skillet over medium high heat. Once the oil is heated up, add garlic and sundried tomato halves. Sauté until fragrant, about 2 minutes.
Turn the heat down to medium low and gently add the diced tomatoes, tomato paste, and granulated sugar. Stir until well-incorporated.
Swiftly whisk in the Greek yogurt and sour cream mixture. You'll want to slowly add it in but whisk fast to get it all incorporated well. After all of it has been added and combined, bring the heat up to medium high and let it simmer and thicken for about 5-7 minutes.
Season the sauce with salt and pepper, to taste, then add in the baby spinach. Once the spinach has wilted, you may add in the cooked pasta and turn off the heat.
Toss to coat the pasta. If the mixture seems too thick, this is where you can slowly add the reserved pasta water (DO NOT add the full cup all at once, pour slowly and stir and see if you need more).
You may top with crushed red pepper flakes, if desired.
Serve hot.
RECIPE NOTES
You must NOT omit the sour cream in this recipe. I have already done the testing and failed with just Greek yogurt in the sauce. Since the Greek yogurt contains zero (or low) fat, it will curdle as soon as you add it to the hot mixture (since we aren't taking the time to temper it). To ensure that it doesn't curdle, you must mix the sour cream with the Greek yogurt. Sour cream contains fat and this fat will prevent the Greek yogurt from curdling and separating. If you have experience cooking with Greek yogurt and are comfortable with omitting the sour cream and replacing it with all Greek yogurt, by all means, go for it. However, I cannot promise you success as I have done this twice and my sauce has separated. The only success I got was when I mixed my Greek yogurt with sour cream.________________________________________________________________________________________________
Oooh doesn't this look refreshing? Creamy Yogurt Cucumber Salad:
1 cup non-fat plain Greek yogurt
3-4 seedless cucumbers, sliced thinly
¼ red onion, thinly sliced and roughly chopped
1 clove garlic, pressed or minced finely
juice from ½ lemon
¼ cup chopped fresh dill, plus more for garnish
¼ cup chopped fresh mint, plus more for garnish
1 teaspoon kosher salt
½ teaspoon freshly ground black pepper
Toss the cucumbers and red onion in a medium to large bowl. Mix the yogurt, garlic, lemon juice, dill, mint, salt and pepper together in a small bowl then add to the cucumbers and toss to coat. Add more salt and pepper as desired and garnish with more mint and dill. Refrigerate for 1 hour before serving.
______________________________________________________________
Spicy Thai Peanut Noodles! These are soooo good. As a side, or main. EAT THIS:
Ingredients
12 oz spaghetti
1 large red bell pepper, sliced into thin strips then cut into 2-inch pieces
1 large cucumber, peeled, seeded and sliced into thin strips then cut into-2-inch pieces
1 cup matchstick carrots
3/4 cup chopped green onions
1/2 cup chopped cilantro
1/2 cup lightly salted roasted peanuts, roughly chopped
Sesame seeds, for garnish (optional)
Peanut Sauce
1/2 cup creamy peanut butter
1/4 cup warm water
3 Tbsp soy sauce
2 Tbsp honey
2 Tbsp Sriracha (more or less to taste)
2 Tbsp fresh lime juice
1 1/2 Tbsp peeled and minced fresh ginger
1 Tbsp minced garlic
1 Tbsp sesame oil Coupons
Directions
Cook spaghetti according to directions listed on package. Meanwhile prepare peanut sauce by combining all sauce ingredients in a mixing bowl, whisking until well blended and smooth.
Drain pasta and pour into a large serving bowl. Toss with sauce then add bell pepper, cucumber, green onions, cilantro and peanuts and toss lightly. Sprinkle with sesame seeds and serve.
___________________________________________________________________________________________________
I'm going to share this because, as I have said before, I will share anything: Paleo, Gluten Free, Vegan, Omnivore, etc. And this is especially shareable because it is a vegan cream sauce loved and shared by a non-vegan! So since it crossed over, it MUST be good! Let's try some! (Note: it says here not to soak the cashews overnight. Guess what is sitting on my counter from last night? Cashews. Soaked overnight and still soaking as I write this. Dang. Will stop at store for a new bag of raw cashews. duh.)
5 Minute Cashew Sauce - just four easy ingredients: cashews, garlic, salt, and water! Perfect base sauce recipe for pasta, dips, or cheesy sauce alternatives. Vegan. | pinchofyum.com5 Minute Cashew Sauce - just four easy ingredients: cashews, garlic, salt, and water! Perfect base sauce recipe for pasta, dips, or cheesy sauce alternatives. Vegan. | pinchofyum.com
five minute cashew sauce
serves: makes about 2 cups
INGREDIENTS
2 cups cashews
1¼ cup water or broth
1-2 cloves garlic
1 teaspoon salt
INSTRUCTIONS
Place cashews in a bowl. Cover with water and soak for about 2 hours. Drain and rinse thoroughly.
Place soaked cashews in the bowl of a food processor or blender with the water, garlic, and salt. Puree until very, very smooth. Thin out with more water to desired consistency. Store in fridge for 3-4 days or freeze.
NOTES
Add extra ingredients to change the flavor! chipotle peppers, pesto, chili paste, etc.
DO NOT SOAK CASHEWS OVERNIGHT. The texture gets watery and chunky. It should stay smooth and creamy as pictured. 🙂
And with the push of a button on your food processor, just like that, you have a sauce that can serve many purposes ranging from a simple creamy pasta sauce, to vegan nacho-cheese-esque sauce, to an alternative sour cream drizzle, to a spicy dip for chips ♥️, to a direct spoon to mouth situation.
Speaking of food processor, do you have one? YOU NEED ONE. I love mine so much that I wrote a full post showing off 12 magical ways that I use my food processor. Must must must. Go now.
Things you could add to the sauce / excuses for eating this sauce 24/7/365:
Sriracha
Nutritional Yeast
Chipotle Peppers
Pesto or Fresh Herbs
Squash/Carrots/Spinach
Sugar! (remove the savory elements of garlic and salt // replace with sweet stuff like peanut butter, sugar, cocoa, vanilla… BRB gotta go try that)
NOTHING – because it tastes really yummy as-is 👌
That's 5 minute cashew sauce, my friends!
________________________________________________________________________________________________
DIETS! There are so many! Everyone is different and has different dietary needs though. Some need more protein than others, some don't tolerate dairy, or grains. Some of us have to eat to correct high blood pressure. There'sa saying about food found in an ancient Egyptian tomb; "One quarter of what you eat keeps you alive, The other three quarters keeps your doctor alive."
And we've all hear this one: "You are what you eat."
How about this one from the BIBLE??: "At the end of times the merchants of the word will decieve the nation of the world through their pharmica - Rev 18:32
We can even go back the days of Hippcrates: "Let food be thy medicine and let they medicine be food."
Right? We can eat the right foods and live healthily for a long time. Pretty much keep the food whole, lean toward more plant based proteins and stay as natural as you can. And pick something from this list that suits what your particular set of needs are:
A BIG GIANT LIST OF DIETS AND LINKS TO ALL OF THEM. There, my interpretation of a wiki page on diets. ;)
____________________________________________________________________________________________________
Peach Cake! It's Gluten Free and made from Cheerios, check it out:
1 1/2 cups Cheerios™ cereal
1 1/2 cups Honey Nut Cheerios™ cereal
1/4 cup unsalted butter, melted
3-4 fresh peaches2 packages (8 oz) cream cheese, softened1/4 cup sweetened condensed milk
1 can (15.25 oz) peaches in sugar syrup, drained
Pulverize the Cheerios™ in a food processor until very fine in texture.
Pour the ground Cheerios™ in a cake pan or a round, heat-resistant mold 9.5 inches in diameter.
Add the butter and mix with your hands. Press down to form a compact crust.
Peel and slice the fresh peaches, setting aside.
Blend together the cream cheese, condensed milk and canned peaches (without the syrup) until thick and creamy in consistency. Pour over the crust base. Arrange the sliced fresh peaches over the top of the filling.
Strain the jam and combine with the water to form a slightly thick glaze to spread over the fresh peaches. Cover with plastic wrap and freeze for 1 hour. Serve, and enjoy!
For more tropical flavor, use mango jam instead of the orange jam.
_____________________________________________________________
It's always hot cocoa season. Here's a great one to make with the crock pot:
Crock Pot Salted Caramel Hot Chocolate

This Crock Pot Pumpkin Spice White Hot Chocolate is just three ingredients and is so easy to make! Perfect for a chilly fall evening!Cook time
¾ cup International Delight Salted Caramel Mocha Creamer
3 cups whole milk
1½ cups chocolate chips
Whipped cream and fleur de sel or sea salt for garnish, optional
_________________________________________
Ambrosia Salad. I can't type that without thinking of that lady in Edward Scissorhands who was oh so interested in meeting the new Edward Scissorhands at the family cookout and she saunters in and says, "I brought ambrosia salad" Remember her?? LOL
Someone brought this "food of the gods" to our Good Friday Egg Hunt lunch last Friday and I've been obsessed ever since. So guess what. Here it is!
Ambrosia Salad
Author:
Trish - Mom On Timeout
1 8 oz tub Cool Whip (lite is fine)

½ cup sour cream (light is fine)
1 11 oz can mandarin oranges, drained
1 20 oz can crushed pineapple, drained
10 oz jar maraschino cherries, drained, halved, and patted dry
1 cup sweetened coconut flakes
2 cups miniature marshmallows
¾ cup chopped nuts (pecans, walnuts, cashews) optional
___________________________________________________________________
You CAN have ice cream and not feel bad about it. Make this and enjoy it! OXOXO
4-Ingredient Strawberry Banana Ice Cream
Prep time: 5 minutes + 3 hour freeze time
Cook time: None
Yield: 2 servings
Serving size: 1 cup
Ingredients
2 bananas, sliced and frozen
½ cup strawberries, frozen
2 tablespoons heavy cream
½ teaspoon vanilla
Instructions
Place all of the ingredients in a food processor and blend until smooth. The consistency should be like soft serve ice cream.
Transfer to a freezer-safe container large enough to hold 2 cups, and freeze for at least 3 hours.
Scoop with an ice cream scoop and serve cold.
Nutrition Information
Per Serving: (1 cup)
Calories: 171
Calories from fat: 53
Fat: 6g
Saturated Fat: 4g
Cholesterol: 17mg
Sodium: 5mg
Carbohydrates: 30g
Fiber: 4g
Sugar: 17g
Protein: 2g
SmartPoints: 3
______________________________________________________________________________________________
Sometimes a thing worth doing is worth doing well. Today, we're going to GREECE! Chicken Gyros:
INGREDIENTS
2 lb / 1 kg boneless skinless chicken thigh fillets
Marinade
3 large garlic cloves, minced (~ 3 tsp)
3 tsp white wine vinegar (or red wine or apple cider vinegar)
3 tbsp lemon juice
1 tbsp extra virgin olive oil
3 tbsp Greek yoghurt
1½ tbsp dried oregano
1 tsp salt
Black pepper
Tzatziki
2 cucumbers (to make about ½ - ¾ cup grated cucumber after squeezing out juice)
1¼ cups plain Greek yoghurt
2 tsp white wine vinegar (or red wine or apple cider vinegar)
1 tbsp lemon juice
1 tbsp extra virgin olive oil (or more if you want richer)
½ garlic clove, minced
½ tsp salt
Black pepper
Salad
3 tomatoes, desseeded and diced
3 cucumbers, diced
½ red spanish onion, peeled and finely chopped
¼ cup fresh parsley leaves
Salt and pepper
To Serve
4 to 6 pita breads or flat breads
INSTRUCTIONS
Place the Marinade ingredients in a ziplock bag and massage to mix. Add the chicken into the ziplock bag and massage to cover all the chicken in the Marinade. Marinate for at least 2 hours, preferably 3 hours, ideally 12 hours and no longer than 24 hours.
Make the Tzatziki
Cut the cucumber in half lengthwise. Use a teaspoon to scrape the watery seeds out. Coarsely grate the cucumber using a box grater. Then wrap in paper towels or a tea towel and squeeze to remove excess liquid.
Place cucumber in a bowl. Add remaining ingredients then mix to combine. Set aside for at least 20 minutes for the flavours to meld.
Salad
Combine ingredients in a bowl.
Cook Chicken
Brush the outdoor grill with oil, then preheat on medium high. Or heat 1 tbsp of oil in a fry pan over medium high heat.
Remove chicken from Marinade. Cook the chicken for 2 to 3 minutes on each side, until golden brown and cooked through (cooking time depends on size of chicken).
Remove the chicken from the grill / fry pan onto a plate. Cover loosely with foil and allow to rest for 5 minutes before serving.
Assemble Gyros
If your chicken thighs are large, you may need to cut them. Mine were small.
Get a pita bread or flatbread (preferably warmed) and place it on a piece of parchment (baking) paper (or you could use foil). Place some Salad down the middle of the bread, then top with chicken and Tzatziki.
Roll the wrap up, enclosing it with the parchment paper. Twist the end with the excess parchment paper to secure it.
I prefer to lay everything out on a table and let everyone help themselves.
NOTES
1. This recipe makes a generous amount of Tzatziki. But better to have too much than not enough!
2. This recipe serves 4 to 6 people. Depending on how robust appetites are!
_______________________________________________________________________________________________
You can use Cool Whip too! Here's how!
Materials Needed:
Start by squirting white shaving cream onto a cookie sheet and spreading it evenly. Drip different color food coloring onto the shaving cream. Take a straw a swirl the colors together to get a tie dye look.
Roll an egg on one side into the colors and flip it over. Let it sit for 10 minutes and rinse clean!
_____________________________________________________________________________
DIY Bisquick! Yes, you can make this yourself. If you've run out, chances are you have all the ingredients to make it right thgen and there: Check it out here:
HOMEMADE BISQUICK MIX
PREP TIME
10 mins
TOTAL TIME
10 mins
Only requires four ingredients and tastes just like the real thing. You can substitute it in any recipe that calls for Bisquick and you can't even tell the difference.
Author: Sarah Averett
INGREDIENTS
6 cups all-purpose flour
1 Tbsp. salt
3 Tbsp. baking powder
1 cup vegetable shortening
INSTRUCTIONS
Mix flour, salt, and baking powder in a large bowl.
Cut in shortening with a pastry blender or whisk attachment on your stand mixer, until mixture has turned into fine crumbs.
Store in an airtight container for up to 4 months.
Recipe from Food.com.
ENJOY!!
____________________________________________________________________________________________________
BREAD! Yes, bread. :) How to make it at home!
First tip: start with good yeast! If your yeast is old or dead, your bread is going nowhere fast. I store my yeast in the fridge at all times, and that helps to keep it fresh. Dissolve the yeast in warm water with a little pinch of sugar. If it isn't bubbly and foamy within about ten minutes, ditch it and start again with fresh yeast.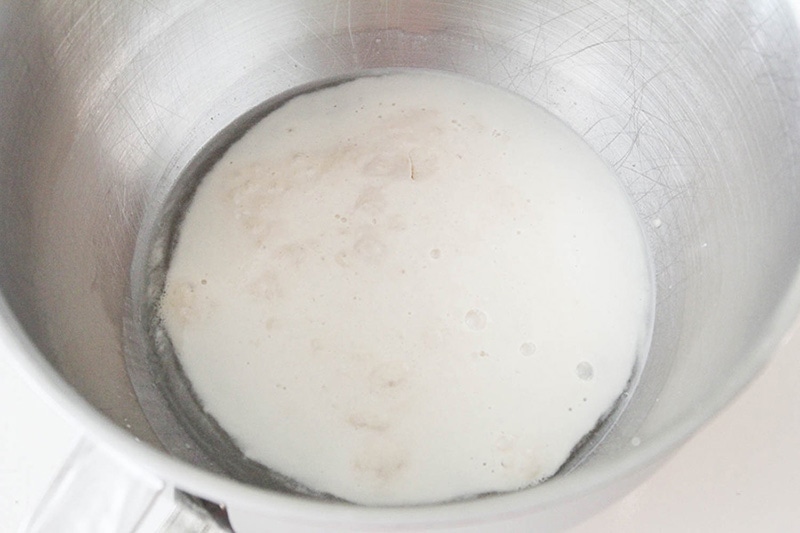 Once your yeast is bubbly, you'll add just a few more basic ingredients to form the dough. I've found over time that my favorite bread recipes are those with the simplest ingredients! The key at this point is to not add too much flour. It definitely helps to add the flour a little at a time. I like to add a little over half of the flour at first, then add the remaining flour 1/2 cup at a time, until the dough reaches the right consistency. It's easy to add more flour, but pretty much impossible to correct when you've added too much. You'll want a dough that's smooth and slightly tacky to the touch, but not overly sticky, and that can be easily rolled into a ball.
You'll let the dough rise for an hour, then divide it into two equal size balls. I'm neurotic, so I always use a kitchen scale to make sure they're the same size, but you can definitely just eyeball it!
Roll each ball of dough out into a long rectangle about eight inches wide, then roll up into a cylinder starting at the short edge. I've found that rolling the dough up this way really helps with the texture and shape of the finished loaves.