I saw the word, "Lazy" and I raised my hand and said "Here!"
INGREDIENTS:
1 lb lean ground beef
1 small onion , diced
2 cloves garlic , minced
1 1/2 teaspoons Italian seasoning
salt & pepper to taste
1 large jar (45 oz) high quality pasta sauce
4 cups mozzarella cheese
1 large package (25-30 oz) cheese & spinach filled ravioli (uncooked)
DIRECTIONS:
Brown ground beef, onion and garlic over medium heat until no pink remains. Drain any fat.
Stir in Italian seasoning and pasta sauce. Cover and simmer 10 minutes.
Spray the inside of a 6-7 qt crock pot with cooking spray. Layer sauce, ravioli and cheese.
Repeat layers ending with cheese. Cover and cook on low 3-4 hours._________________________________________________________________________________________
SAVE THE CHEESE!
Queso en aceite (literally, "cheese in oil") is what happens when manchego and olive oil get cozy. Left to intermingle for weeks or months in a jar (traditionally an earthenware orza jug), the oil gradually permeates the creamy sheep's milk cheese, softening it and imparting a compelling, throat-catching piquancy. Little did I know that a few months prior, that very cheese would've been too dry to eat out of hand. The oil, in essence, had resuscitated it.
"Cheese has been oil-cured as a means of preservation for centuries in Spain," says Clara Díez, co-owner of Quesería Cultivo, a boutique cheese shop in Madrid. She explains that the fat acts as a barrier to undesirable yeasts and bacteria, keeping the cheese fresh and safe to eat, even when temperatures soar. The preserve is such hardy stuff, in fact, that Christopher Columbus packed it alongside salt cod and hardtack on his transatlantic voyages.
But like many foods that were created for their indestructibility—we're looking at you, duck confit and jamón Ibérico—queso en aceite has endured into the refrigeration era for its distinctive flavor and texture.
"It really sings on a cheese plate," says Alex Raij, chef and owner of Spanish restaurants La Vara, Txikito, and El Quinto Pino in New York City, who infuses hers with za'atar for a tapa served with crackers at at El Quinto Pino. "We reuse the curing oil, topping it up whenever we need to, and the cheese is getting better and better with each batch. I think of it as a solera system of sorts."
Part of the beauty of queso en aceite is that it's dead-easy to make and infinitely adaptable. First, choose a hard cheese. Parmigiano-Reggiano, aged gouda, or even a crumbly cheddar will do the trick, but for the real-deal Spanish stuff, opt for an aged manchego. Trim off any rinds, cut the cheese into chunks or batons, and place them snugly in a glass jar along with any aromatics you fancy such as rosemary, chiles, or citrus zest. Fill the jar to the brim with your favorite extra-virgin olive oil, screw the lid on tight, and ya está—set it in a back corner of your cupboard, and forget about it for up to six months (though it'll be ready for noshing after two weeks).
______________________________________________________________________
One of my faves! Peanut noodles!
2

summer squash

zucchini, or 1.5 cups cooked gluten-free noodles

2

tablespoons

chopped green onion

or regular onion

1

tablespoon

grass-fed butter

ghee or oil of choice

1

teaspoon

toasted sesame oil

preferably cold-pressed

2

tablespoons

veggie or chicken broth

or water, if the sauce is too thick, plus additional 1-2 tablespoons if needed .

3

tablespoons

almond butter

or peanut butter, I used almond butter b/c it's paleo

1

tablespoon

coconut aminos

tamari or soy sauce

1

teaspoon

apple cider vinegar

2

teaspoons

maple syrup

1-2

teaspoons

Sriracha

Optional: chopped cilantro and chopped almonds or peanuts to sprinkle on top
Spiralize

your squash to make your noodles and set aside, should make about 3 cups. Or boil your gluten free noodles according to the box's direction.

In a saucepan over medium-high heat sauté the onions in the butter or oil until they are soft, golden and fragrant.

Turn the temperature down to medium-low and add the remaining ingredients- water, almond butter, coconut amino/soy sauce, apple cider vinegar, maple syrup and Sriracha and mix for about 2 minutes.

Remove from heat and stir in sesame oil, then add your noodles and stir to coat, top with cilantro and almonds.

Serve and enjoy!
_______________________________________________________________________________________
Since it INSISTS on being summer still!!!
Cucumber Pineapple and Jalepeno salad. Mmm, fresh sweet heat. Sounds good right???
INGREDIENTS LIST FOR THE PINEAPPLE CUCUMBER JALAPEÑO SALAD
2 1/2 cups diced pineapple
1 cup diced cucumber
1 jalapeño, seeded and minced
1/4 cup diced red onion
2 tablespoons chopped fresh cilantro leaves
1 lime, juiced
Salt and fresh cracked black pepper, to taste
DIRECTIONS
1. In a large bowl, combine pineapple, cucumber, jalapeño, onion, cilantro, lime juice and salt and pepper, to taste.
2. Serve immediately, or keep in the refrigerator for 15 minutes to let the flavors meld.
____________________________________________________________________________________________
Food you just can't get out of the house unless you go to a family diner somewhere. How about these Beef Tips??
Ingredients
2 lbs cubed beef stew meat

1 onion, chopped

1 package brown gravy mix

1/4 cup soy sauce

1/4 cup Worcestershire sauce

2 cups water

3 tablespoons vegetable oil (or canola)

1 teaspoon garlic (I use fresh)

1 teaspoon salt

1 teaspoon fresh ground pepper

1 cup water
Directions
Please head to

food.com

for the directions and to print this wonderful recipe. While you are there, be sure to read the rave, five star reviews!
TIPS: For lower sodium, leave out the teaspoon of salt and use reduced sodium soy sauce, Worcestershire sauce and brown gravy mix.
_____________________________________________________________________________________________
This just looks PRETTY! Let's make this!
Easy Blueberry Peach Tart
with Vanilla Glaze
yield 1 large tart, 6 slices
A fresh and fruity tart loaded with peaches and blueberries. Topped with a vanilla glaze, this tart is perfection!
Ingredients
1 sheet of puffed pastry, thawed for 20 minutes
1 large egg
1 tablespoon water
3 large peaches, peeled, pitted, and thinly sliced
1 1/2 cups fresh blueberries
1/4 cup granulated sugar
1/4 teaspoon salt
1/4 teaspoon cinnamon
1 teaspoon cornstarch
For the Vanilla Glaze:
1 cup of confectioners' sugar
1 teaspoon vanilla extract
2 tablespoons of milk OR heavy cream, more if needed to achieve desired consistency
Instructions
Remove 1 sheet of puffed pastry from the freeze; thaw for 15-20 minutes at room temperature, or until it can easily be unfolded without cracking.
Preheat oven to 400°(F). Line a large baking sheet with parchment paper; set aside.
In a small bowl combine the egg and water; beat until well combined; set aside.
Thinly slice peaches and place them in a large mixing bowl. Add in the sugar, salt, cinnamon, and cornstarch; toss well ensuring all peaches and are coated in the cinnamon sugar mix; set aside.
Gently unfold the puffed pastry. If it does crack, gently press the tears back together and mend with slightly wet fingers.
Place puffed pastry on prepared baking sheet.
Layer the peaches evenly (and very tightly) on the puffed pastry, making 3 tidy rows, leaving a 1" border around the pastry. Sprinkle the blueberries on top.
Lightly brush exposed pastry crust with egg wash.
Bake for 16-18 minutes, rotating once during baking, or until the crust is puffed up and golden brown and the peaches are tender.
While the tart bakes, make the vanilla glaze!
In a small bowl combine the confectioners' sugar, vanilla, and cream; whisk until smooth, adding more cream as needed to reach desired consistency. Drizzle over the tart right before serving.
Serve warm with vanilla glaze and maybe even a scoop of ice cream!?
Notes
Be sure to leave a one inch boarder around the tart, this helps ensure the edges don't get soggy.
____________________________________________________________________________________________
Olives! I actually hate them. I DO! But other people love them! And the Jammin Kitchen is sponsored this week by The University of Mount Olive, so here you go - a delicious looking appetizer made with olives. Enjoy!!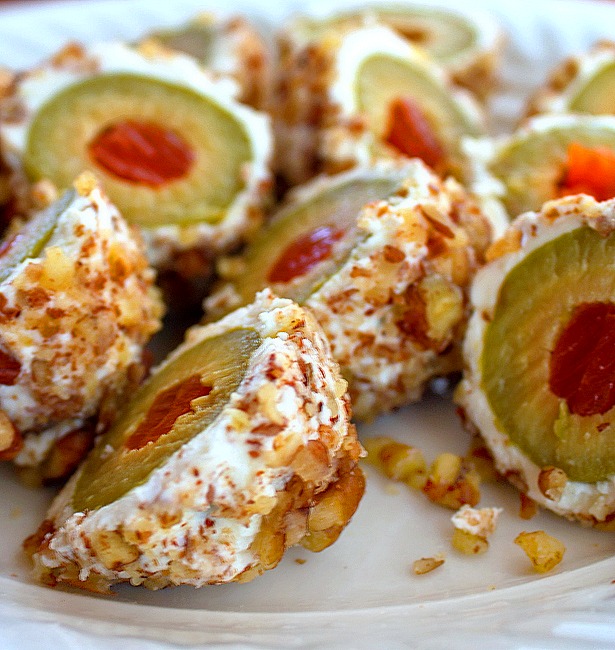 Cream Cheese Wrapped Olives
1

Jar large Olives

the largest olives you can find in the grocery store

1-

eight ounce block of Cream Cheese

room temperature

1/2

cup

crushed nuts crushed finely

pecans, walnuts or almonds
The best way that I can describe getting the cream cheese onto the olive is to envision someone making truffles. Dry the olives with a paper towel, with a knife slice a small portion of room temperature cream cheese and put it into the palm of your hand. Place the large olive on top of the cream cheese and wrap it around the olive. When its covered, shape it into a little football, making sure that the pimento is on one side so you know how to cut it, you want it cut in half not length wise.

After it's covered, roll it in crushed nuts. Put the cream cheese wrapped and nut covered olives into the refrigerator so the cream cheese firms up. Slice when your ready to serve.
_______________________________________________________________
You don't have to be vegan to love these! I love them, and I'm an omnivore. Wait. That may explain my extra pounds - that eating of everything thing. ANYWAY. I love veggie burgers, and JAmmin Kitchen hasn't spoken for our vegan freinds in a while, so here you go! Asian Veggie Burgers!
INGREDIENTS
2 boxes Sweet Earth Natural Foods Frozen Teriyaki Veggie Burgers
1½ cups red cabbage, shredded
¾ cup mango, diced
½ cup cilantro, finely minced, plus more for topping
1 tablespoon fresh lime juice
1 teaspoon apple cider vinegar
1 teaspoon maple syrup
¼ teaspoon salt
2 tablespoons tahini
2-4 teaspoons Sriracha sauce (depending on how spicy you want it)
½ teaspoon soy sauce
⅛ teaspoon ground ginger
4 whole-grain hamburger buns
Optional toppings: lettuce, spinach, sprouts, avocado, tomato
INSTRUCTIONS
Cook veggie burgers according to package directions.
In a large bowl, add cabbage, mango, cilantro, lime juice, vinegar, maple syrup, and salt. Stir to combine; let sit for 5 minutes to absorb all the flavor.
In a small bowl, add tahini, Sriracha, soy sauce, ginger, and 2 tablespoons water. Stir until smooth, adding more water as needed.
To assemble burgers, place a veggie burger on a bun with mango cabbage slaw and any other toppings. Drizzle with Sriracha sauce!
________________________________________________________________________________________________
Shrimp Etouffee mmmm........
Ingredients
Optional Shrimp Stock:
Shells from 2 pounds of shrimp
1/2 large onion, chopped
top and bottom from 1 green pepper
2 garlic cloves, chopped
1 celery stalk, chopped
5 bay leaves
Étouffée
2 pounds shrimp, shell on (remove shells for use in the shrimp stock, if not making your own stock, you can get shrimp already shelled)
1/4 cup vegetable oil or lard
Heaping 1/4 cup flour
1/2 large onion, chopped
1 bell pepper, chopped
1-2 jalapeno peppers, chopped
1 large celery stalk, chopped
4 garlic cloves, chopped
1 pint shrimp stock (see above), or clam juice or pre-made fish or shellfish stock
1 Tbsp Cajun seasoning
1/2 teaspoon celery seed
1 Tbsp sweet paprika
Salt
3 green onions, chopped
Hot sauce (Crystal or Tabasco) to taste
Directions
1 Pour 2 quarts of water into a pot and add all the remaining stock ingredients. Bring to a boil, drop the heat down and simmer the stock gently for 45 minutes. Strain through a fine-meshed sieve into another pot set over low heat. You will have extra stock, which you can use for soup, risotto, etc. It will last in the fridge for a week.
2 To make the etouffee, start by making a roux. Heat the vegetable oil or lard in a heavy pot over medium heat for 1-2 minutes. Stir in the flour well, making sure there no clumps. Let this cook, stirring often, until it turns a pretty brown; this should take about 10 minutes or so.
3 Add the celery, green pepper, jalapeño and onion, mix well and cook this over medium heat for 4 minutes, stirring occasionally. Add the garlic and cook another 2 minutes.
4 Slowly add the hot shrimp stock, stirring constantly so it incorporates. The roux will absorb the stock and seize up at first, then it will loosen. Add enough stock to make a sauce about the thickness of syrup, about 1 pint.
Add the Cajun seasoning, celery seed and paprika and mix well. Add salt to taste, then mix in the shrimp. Cover the pot, turn the heat to its lowest setting and cook for 10 minutes.
5 Add the green onions and hot sauce to taste. Serve over white rice with a cold beer or lemonade.

_____________________________________________________________________________
I love bowl food. Who else loves bowl food? Everything in a bowl perfect for eating while TV binging. Don't judge!!
I'm not even going to recipe this. Throw in there what you like! Asian style, Mexican, Moroccan, Indian, Thai, protein, veg, carb, go paleo with it and skip the rice, go veggie and skip the meat, make it into dessert with ice cream, brownies, and nuts, your call, your bowl. ENJOY!!
__________________________________________________________________________________________
Who started this pizza idea in the first place? Who invented our favorite food?
An often recounted story holds that on 11 June 1889, to honour the Queen consort of Italy, Margherita of Savoy, the Neapolitan pizzamaker Raffaele Esposito created the "Pizza Margherita", a pizza garnished with tomatoes, mozzarella, and basil, to represent the national colours of Italy as on the Italian flag.
______________________________________________________________________________________________
Busy Parents, Teens, the Cook's Not Home? HEADS UP: The Microwave Saves The Day!! This and a bunch more ways to microwave your meal. Super easy! Click the photo for more recipes.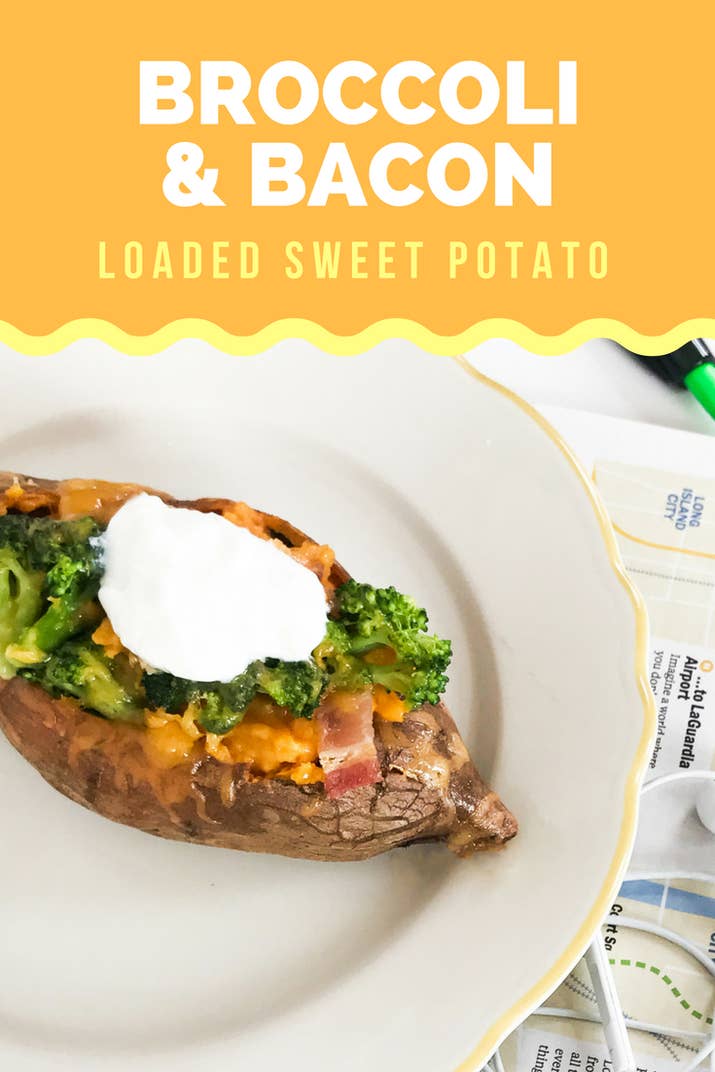 _____________________________________________________________________________________________
What? WHAT? This is a thing??????????? I am SCREAMING.
Lobster Mac and cheese. YOU HEARD ME! Now pull yourself together, put on your apron and get busy...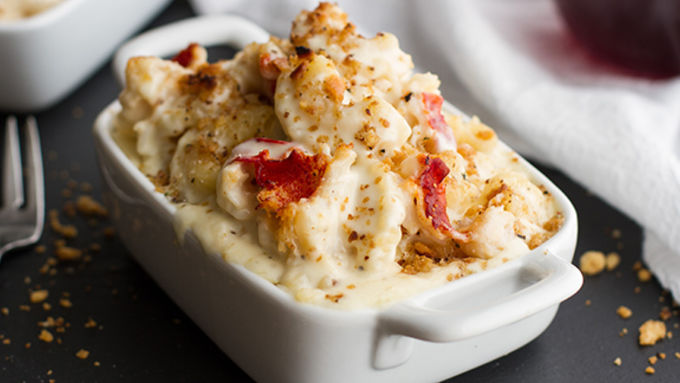 Ingredients
1 pound elbow pasta (or any short cut pasta)
9 tablespoons butter
1 clove garlic
1 pound cooked lobster meat, chopped
1 tablespoon fresh parsley, plus more for garnish
1 1/2 cups crushed Ritz crackers (about 1 sleeve) SAVE $
1/4 cup flour
3 cups whole milk
1 1/4 cups sharp white cheddar cheese, shredded
1 1/4 cups gruyere cheese, shredded
1 cup fontina cheese, shredded
4 ounces brie, rind removed and chopped
1/4 teaspoon mustard powder
1/4 teaspoon cayenne powder
1/4 teaspoon salt
1/2 teaspoon pepper
1. Preheat oven to 350°F. Spray a baking dish with nonstick spray.
2. Bring a large pot of salted water to a boil. Boil the pasta until al-dente. You want it to have a bit of bite because it will finish cooking in the oven. Drain well.
3. While the pasta boils add 3 tablespoons butter to a medium skillet and melt. Add the garlic and sauté 30 seconds then add in the lobster meat and sauté for 3-5 minutes. Add the parsley and cook another 30 seconds. Remove the lobster from the pan.
4. Add another 2 tablespoon of butter to the skillet. Throw in the crushed Ritz crackers and toss to coat. Toast the crumbs for 3-5 minutes, stirring frequently to avoid burning. Once the crumbs are lightly toasted, remove from the heat and set aside.
5. In the same pot you boiled the pasta, melt the remaining 4 tablespoons butter over medium heat. Whisk in the flour. Reduce the heat to medium-low and let cook and bubble for 1 minute, stirring once or twice to avoid burning. Gradually whisk in the milk and raise the heat up to medium-high. Bring the mixture to a boil, whisking frequently until the sauce has thickened, about 2-3 minutes. Remove from the heat and stir in all of the cheese, mustard powder, cayenne, salt and pepper. Stir until the cheese is fully melted. Stir in the pasta and about 3/4 of the lobster meat. Transfer to the prepared baking dish.
6. Evenly sprinkle on the remaining lobster chunks and then the toasted cracker crumbs. Place the baking dish on a baking sheet.
7. Bake for 20 minutes or until the crumbs are golden brown and the sauce is bubbling.
8. Remove from the oven and let sit five minutes. Dig in!!
_____________________________________________________________________________________________
I'm going to do something a little different on today's Jammin Kitchen. I was going to choose one way to stuff a brownie, but instead, I went to pinterest and typed "Stuffed Brownie" in the search bar and I cracked up at what I found. First, how is God stuffed into a brownie?? I have no idea. Also, that flat belly in the middle off all that surgary, fatty goodness! Doest that mean there is hope in some way?? haha!! Here, have at it, all the ways you can stuff a brownie!
_______________________________________________________________________________________________
Return to salads with this hearty, fall salad that could be a meal in itself!
NUTTY HARVEST HONEYCRISP KALE SALAD
yield: SERVES 2 total time: 45 MINUTES
INGREDIENTS:
smoky honey pepita clusters
1/2 cup pepitas
1/2 tablespoons coconut oil
2 to 3 tablespoons honey
1/4 teaspoon smoked paprika
pinch of salt
sweet and spicy toasted pecans
1/2 cup pecans
1 1/2 tablespoons honey
1/2 teaspoon red pepper flakes
1/8 teaspoon ground nutmeg
cinnamon shallot vinaigrette
2 tablespoons red wine vinegar
1 1/2 tablespoons honey
1 teaspoon dijon mustard
1 shallot, diced
1 garlic clove, minced
1/4 to 1/2 teaspoon ground cinnamon
1/4 teaspoon salt
1/4 teaspoon pepper
1/3 cup olive oil
salad
4 to 6 cups chopped tuscan kale
2 honeycrisp apples thinly sliced
3 ounces freshly grated sharp white cheddar cheese
DIRECTIONS:
smoky honey pepita clusters
Preheat the oven to 350 degrees F. Line a baking sheet with parchment paper. Microwave the coconut oil and honey together until melted, about 30 seconds. Stir the pepitas in a large bowl with the honey mixture, salt and smoked paprika. Place them on the baking sheet and smooth them out with a spatula – you still want them clustered so you can break them apart after baking!
Bake for 20 to 25 minutes. Remove from the oven and toss slightly. Let cool completely before breaking apart.
sweet and spicy toasted pecans
Heat the pecans in a nonstick skillet over low heat, stirring often, until fragrant and toasty. Stir in the honey, red pepper flakes and nutmeg. Let the honey bubble and stir for a few minutes, then transfer the pecans to parchment paper and let them cool completely.
cinnamon shallot vinaigrette
Whisk together the vinegar, honey, mustard, shallot, garlic, cinnamon, salt and pepper. Whisk in the olive oil until emulsified. This keeps great in the fridge for a few days!
salad
Massage the kale with a tablespoon or so of the dressing and let it sit for 5 to 10 minutes. I like to season the kale at this point with salt and pepper too. Slice the apples and combine the apples, cheese, pecans and pepita clusters with the kale and toss well. Serve with the vinaigrette!___________________________________________________________________________________________
I have had this soup at Panera! It's deli