I hate to break it to you, new parents of kids going to school this year: Your healthy lunches you pack for your child is getting ditched or traded with the kid whose mom packed oreos, cheetos, soda, donuts, and instant pudding cups.
Your hours of scouring Pinterest for cute healthy lunches will be for naught. Once your little ones leave the sancitity of your Healthy Habits Home and enter into the big bad world of OPKs (Other People's Kids), it's ALL over.
But don't sweat it! That junk food will have them super hungry again by the time they get back to the safe haven of home, so turn those healthy lunch ideas into after-school snacks! They may complain, they may chant, "MOM, you NEVER have any junk food in this house!" I know. I'm one of those moms. When the husband brings unicorn colored pop tarts into the house, I freak out. But STAND FIRM!! The good stuff DOES taste good. It WILL be eaten after you hide the tarts in the back of the closet with cleaning products. You just tell them they get plenty of junk food. FROM THEIR FRIENDS AT SCHOOOL, SO SHUT IT. Or something to that effect.
Good luck out there Moms and Dads!
_____________________________________________________________________________________________
Ceviche! This is so delicious and so great for you!
_
Shrimp Ceviche
Total Time: 24 hrs. 15 min.
Prep Time: 15 min.
Cooking Time: None
Yield: 8 servings, 2 each
Ingredients:
½ cup fresh lime juice
1 lb. cooked medium shrimp, peeled and deveined, coarsely chopped
1 medium cucumber, finely chopped
½ medium red onion, finely chopped
2 medium Serrano chiles (or jalapenos), seeded and deveined, finely chopped (optional)
1 medium tomato, finely chopped
1 medium ripe avocado, finely chopped
2 Tbsp. finely chopped fresh cilantro
¼ tsp. sea salt
16 endive leaves
Preparation:
1. Combine lime juice and shrimp in a medium bowl; mix well. Marinate, covered, in the refrigerator, for 6 to 24 hours.
2. Combine shrimp mixture, cucumber, onion, chiles (if desired), and tomato in a large bowl; mix well.
3. Add avocado, cilantro, and salt; toss gently to blend.
4. Evenly portion shrimp mixture into endive leaves. Serve two leaves for each portion.
__________________________________________________________________________________
Here's one that Bubba Gump didn't mention! Jalapeno Shrimp/Veggie Bake.
Let's try this one!
INGREDIENTS
16
medium shrimp (peeled, thawed)
2- 3
chopped garlic cloves
One large tomato (sliced 1/3 inch thick)
2
summer yellow squash (sliced 1/4 inch thick)
One jalapeño, sliced and deseeded. Or keep the seats for extra spice.
1/4
cup red onion (sliced or chopped)
1/3
cup Parmesan crumbles (nutritional yeast if you are avoiding dairy)
1/4
teaspoon sea salt and black pepper each
1/2
teaspoon chili pepper flakes or seasoning
1
tablespoon softened or melted butter (see below for other options)
1/3
cup cream (or coconut cream works as well)
Two eggs
Cilantro and additional chili flakes for toppings and garnish
INSTRUCTIONS
First make sure your shrimp is peeled and thawed. Preheat oven to 350F
Next make sure all your veggies are sliced and layer them evenly into a greased casserole dish. Place Shrimp on top.
In small bowl, mix eggs, garlic, flour, butter, cream, and seasoning.
Pour this evenly over your shrimp and veggie dish. Then add your parmesan on top (evenly).
Bake at 350 Fahrenheit for 45 minutes. Depending on your oven, it could be less. Just want to make sure that your shrimp is cooked and your veggies are nice and tender. *NOTE* Depending on the size of your shrimp, they could cook faster. Check at 20 minutes to see progress. If you are using small shrimp, you might want to add them last half of baking to ensure not to overcook.
THE TOP SHOULD BE A LITTLE GOLDEN BROWN DUE TO THE BAKED PARMESAN.
And the eggs should be cooked through.
Once cooked remove and cilantro on top!
Feel free to Season with additional salt-and-pepper and chili flakes as well.
RECIPE NOTES
You can use non dairy butter or olive oil if desired but the taste and consistency might be a littler different. Check around 35 minutes to see if the veggies cook faster.
Notes on consistency- the egg/butter/cream mixture acts as a base almost like a frittata. You will want to make sure that's cooked through as well. If you find the consistency too runny, use less cream or one less egg.
__________________________________________________________________________________________
Lawds, ha-Mercy!
SLOW COOKER SAUSAGE RISOTTO
6 20 MINUTES 2 HOURS, 30 MINUTES 2 HOURS, 50 MINUTES
1 tablespoon butter
5 cloves garlic, minced
1 pound Italian sausage, casings removed
2 cups Arborio or other short-grain rice
½ cup white wine
4½ cups chicken broth or stock
1 cup grated Parmesan cheese
2 tablespoons cold butter
½ teaspoon salt
¼ teaspoon pepper
1 cup half-and-half (optional)
Heat 1 tablespoon butter in a skillet over medium heat. Add garlic and stir for 30 seconds, until fragrant. Add the sausage and cook, breaking up with a spoon or spatula until well-browned. Add rice and cook for 1 minute. Deglaze pan with white wine and stir until all the little bits on the bottom of the pan are lifted.
Pour sausage mixture into the bottom of a 6-quart slow cooker. Add chicken broth.
Cover and cook on high for 2½ hours, until rice is tender.
After 2½ hours, add Parmesan and 2 tablespoon butter, stirring until cheese and butter are both melted and fully incorporated.
Serve, garnishing with extra Parmesan and fresh parsley.
Tip: For extra-creamy risotto (optional step done in video), mix in 1 cup half-and-half after you mix in the Parmesan and butter at the end.
Pro tip: If you don't feel like making a salad, you can add a bit of green to the risotto by stirring in 5 ounces fresh baby spinach when you add the Parmesan.
Walking Tacos! Have we done this yet here? If so, fine, we're going it again!
You know what to do... GO! Enjoy!
____________________________________________________________________________________________
Bacon wrapped butternut squash. For our Paleo friends!
I bet this would be good with turkey bacon too.
2 1/2 lbs butternut squash
15 slices of bacon
Olive oil
Chili powder
Garlic powder
Salt
PepperPreheat the oven to 350 F. Peel and trim the butternut squash. Cut the squash into 1″ cubes (discard the seeds and pulp–makes about 30 cubes). Place the squash in a bowl and drizzle with oil and sprinkle with chili powder, garlic powder, salt, and pepper–to taste. Toss to coat. Cut the bacon in half, width wise. Wrap half a bacon slice around one squash cube and place, seal side down on a foil lined baking sheet. Repeat for the reminder of the squash cubes. Bake for 20 minutes. Flip the bites over (careful not to unwrap the bacon) and bake for another 20 minutes or until the squash is tender and the bacon is cooked through. If you want to bacon crispier, broil it for the last 3-5 minutes of baking (keep an eye on it).*You could also use toothpicks to seal the bacon, if necessary
Bacon Wrapped Butternut Squash Bites
: 12 net carbs per serving (serves 10)
*Note carb counts are estimated based on the products I used. Check nutrition labels for accurate carb counts and gluten information. Adapted from
Food Renegade
Enjoy!
_________________________________________________________________________________________________
This is lunch today. The last third of a bag of these addictive, happy little veggie straws!! For 38 straws it's only 130 calories, just FYI. Enjoy!
_______________________________________________________________________________________
Swineapple. YES. It is too important a discovery not to share it here. Click on it to learn all about this cray: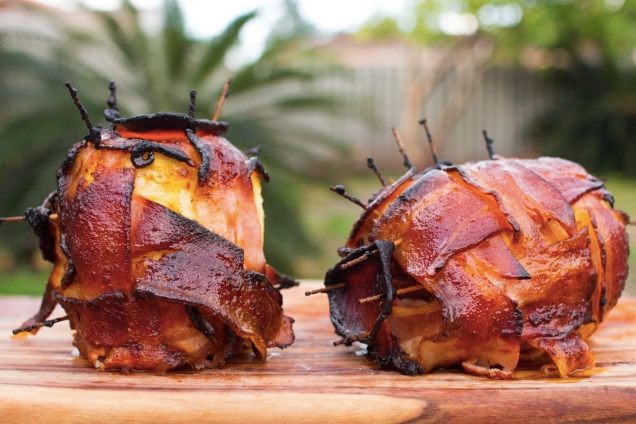 Kitchen Hacks!
Kids, gather 'round! These are GOOD! Click the Awesome Sauce to see them:
_______________________________________________________________________________________________
Here's how Americans like their steaks: 37.5% prefer medium, 25.8% like it medium-well, 22.5% want it medium rare, 11.7% insist it be well done, and only 2.5% like it brought in on a leash. Here's how to make them all:
__________________________________________________________________________________________
THAI FOOD. Why is it so good??? It just is. Here, look at this:
Ingredients
1 can low-fat coconut milk
1/4 cup creamy peanut butter
1 tablespoon yellow curry powder
1 clove garlic
juice of a lime
1-2 teaspoons sriracha
1 teaspoon kosher salt (or to taste)
3 cups chopped kale
2 cups chopped napa cabbage
1 red bell pepper, chopped
1 cup shredded carrots
1 cup chopped mango
1/2 cup chopped peanuts
1/2 cup chopped cilantro
Instructions
Place all ingredients in a blender (coconut milk through salt) and blend on high speed until very smooth. Place dressing in a saucepan, bring to a boil then simmer until reduced and thickened, about 10 minutes. Set aside to cool.
Place remaining ingredients into a large bowl, toss with dressing and serve immediately.
________________________________________________________________________________________
DON'T PLAY WITH YOUR FOOD! Wait...why not?? These are hysterical!
Apples, strawberries, sunflower seeds, nut butter (your choice of) to hole them in place. And GOOGLY EYES!
Click photo above to learn how to make edible googly eyes and then...
PUT THEM ON EVERYTHING!!!!
_______________________________________________________________________________________________
Hey, sometimes it doesn't work out. It's okay. IT'S OKAY! Click the photo below and see all the best Pinterest food fails. Don't feel bad. There, there.....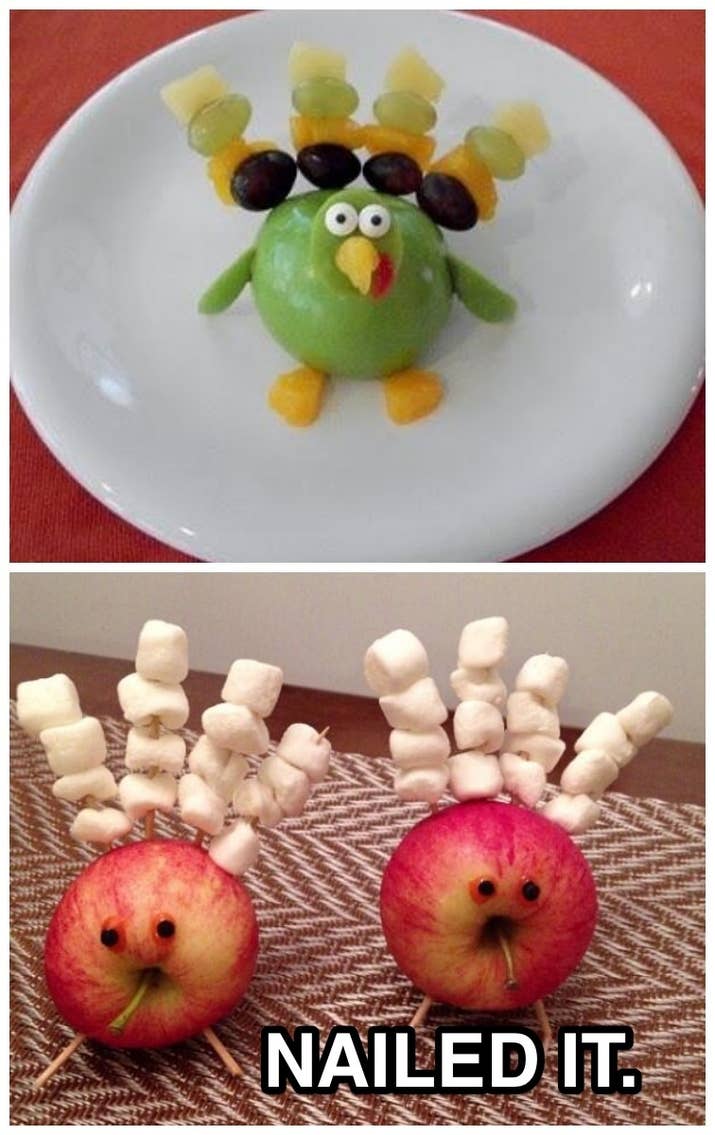 HEAVENS! It came from the heavens!! Oh my foodie friends...indulge us, please with:
TATER TOT SLOPPY JOES
Crock Pot Tater Tot Sloppy Joe Casserole Recipe
Ingredients
1 lb. ground beef
½ onion, diced
1 c tomato sauce
2 tbsp Worcestershire sauce
2 tbsp ketchup
2 tsp mustard
2 tsp garlic, minced
1 tsp pepper
1 tsp salt
1 can red kidney beans
1 cup cheddar cheese, shredded
1 bag tater tots, frozen
Directions
1. Brown beef with onions, garlic, salt, and pepper.
2. Add tomato sauce, Worcestershire sauce, ketchup, and mustard to the beef mixture. Mix well.
3. Add the kidney beans
4. Spray the inside bowl of the slow cooker with non-stick spray or line with parchment paper
5. Place a layer of tater tots on the bottom of the bowl
6. Cover with the beef mixture
7. Place another layer of tater tots on top of the beef mixture.
8. Cover the bowl with a tea towel, and place the lid over that.
9. Cook on high for 4 hours
10. In the last 30 minutes of cooking, remove the lid and sprinkle on the cheese. Replace lid and continue cooking until the cheese is melted and gooey.
When serving, garnish with a dollop of sour cream or ketchup if you prefer.
Enjoy!
How fun is this? I'm going to make these for my son. He is always on the go, visiting friends. Maybe this will make him stay home for like, an hour longer??
S'mores Cookies!!
Ingredients
1 cup graham cracker crumbs
1 1/4 cups flour
1/2 teaspoon baking soda
1/4 teaspoon salt (use 1/2 teaspoon if using unsalted butter)
1 stick (8 tablespoons) butter, softened
1/2 cup brown sugar
1/3 cup sugar
1 large egg
1 teaspoon vanilla extract
12 large marshmallows, cut in half
2 Hershey's chocolate bars (1.55 oz each)
Instructions
Preheat oven to 350 degrees. Spray a mini muffin pan with cooking spray.
In a small mixing bowl, combine graham cracker crumbs, flour, baking soda, and salt. Stir with a wire whisk. Set aside.
In larger bowl, with a handheld electric mixer, blend the butter, brown sugar, and sugar until creamy and combined.
Add in egg and vanilla extract. Mix well.
Dump in the bowl of dry ingredients, mix on low speed just until combined. The dough will be crumbly.
Scoop dough into the mini muffin tins. Fill them full and press down slightly so the dough is even on top. You will have the perfect amount of dough to fill all 24 mini muffin tins.
Bake for 8 minutes. They will look like they're not done, but trust me, they'll be perfect.
Immediately after baking, take a teaspoon size measuring spoon and press into the dough. You want to make an indent for the marshmallow to sit in. Place a half of marshmallow into each indent in the muffin cups. Sticky side of the marshmallow down.
Let cool for 20 minutes.
Place one square of chocolate on top of each marshmallow.
Turn the oven broiler to high. Place muffin tin pan under the broiler for 1-2 minutes. Watch carefully. This toasts the marshmallows fast.
Let cool for about 10 minutes and eat right away for a warm, gooey s'more or let cool completely.
** If you don't want the chocolate very melted (like what is pictured) broil the pan with the marshmallows first, and then immediately after taking out of the oven, press one chocolate on top of each toasted marshmallow. The chocolate is more of a softer chocolate that retains it's shape almost perfectly when you do it this way. __________________________________________________________________________________________
I don't even think we need a recipe for this, do we? Get a packet of gelatin, follow the directions and add every wonderful thing you see here: PS. Oh. My. GAWD.
__________________________________________________________________________________________
Taco Salad! This is great for summer. :)
Meal Prep Taco Salad Lunch Bowls
Meal Prep Taco Salad Lunch Bowls that you can make ahead! These easy taco salads are filled with taco beef, lettuce, cheese, black beans, corn and salsa!
1 pound lean ground beef or ground turkey
2 tablespoons homemade taco seasoning
6 cups chopped romaine lettuce
15 ounce can black beans, rinsed and drained
15 ounce can corn, drained
1 cup grated cheddar and/or jack cheese
Heat a large skillet over medium heat. Add ground beef and sprinkle with salt and pepper. Cook, breaking up the meat, until beef is browned, about 5 minutes. Add the taco seasoning and water and reduce heat to a low simmer. Cook, stirring occasionally, until liquid is mostly gone and meat is cooked through, about 5 minutes. Set aside to cool.
Assemble the salads: Divide lettuce between 4 storage containers, pushing it to the right side of the container. Holding the container so that it tilts to the right, place the beans and corn next to the lettuce. Once the meat is completely cooled, carefully spoon it into the left side of each container.
Add tomatoes on top of the beans and corn, and sprinkle the cheese across the top of the lunch bowls.
Add ¼ cup salsa on top of the taco meat. Seal each container with a lid and store in the refrigerator for up to 3 days.
When ready to eat, shake or stir to combine and enjoy!
_______________________________________________________________________________________________
WHAT?!?! Yes, Kool-Aid Pickles are a thing. Here you go:
Ingredients
1 jar (32 ounces) whole dill pickles, undrained
2/3 cup sugar
You can also try it without sugar
1 envelope unsweetened Kool-Aid mix, flavor of your choice
DIRECTIONS
Drain pickles, reserving juice. In a small bowl, combine the reserved juice, sugar and Kool-Aid, stirring until sugar is dissolved. Set aside.
Slice pickles; return to jar. Pour juice mixture over pickles. Discard any remaining juice. Cover and refrigerate for 1 week before serving. Store in the refrigerator up to 2 months. Yield: 3 cups.
___________________________________________________________________________________________
We all love it. It goes well with tortilla chips and crackers and you can make this in the CROCK POT!
14 1 ounce can artichoke hearts
8 oz Spinach, fresh leaves
1/4 tsp Black pepper, freshly ground
Cook on high in crockpot until bubbly. Serve immediately of course. Enjoy!
_________________________________________________________________________________________________
If your heart's been broken, if you have a hangover, if you want to blow some Weight Watchers weekend points, if you're too skinny, if you JUST WANT SOME MAC N CHEESE! The good kind! Homemade, not from a box. Well, here you go:
Ingredients
12 oz dry macaroni
1/4 cup butter
1/4 cup flour
1 1/2 cups milk
1 cup light cream (about 10-12% MF)
1/2 teaspoon dry mustard powder
1 teaspoon onion powder
salt & pepper to taste
1 can condensed cream of cheddar soup (optional)
4 cups sharp cheddar , divided
1/2 cup fresh parmesan cheese
Directions:
Preheat oven to 425 degrees.
Cook macaroni according to package directions. Drain and run under cold water.
Melt butter over medium heat in a large saucepan. Whisk in flour and let cook 2 minutes while stirring. Slowly whisk in cream, milk, mustard powder and onion powder. Cook over medium heat while stirring until thickened.
Remove from heat and stir in parmesan cheese & 3 cups cheddar cheese until melted. Add soup if using.
Toss cheese sauce & macaroni noodles together. Pour into a greased 9×13 pan. Top with remaining cheese.
Bake 18-24 minutes or until bubbly. Do not over cook. Cool 10-15 minutes before serving.
TIPS:
Cook your PASTA AL DENTE (FIRM) as the noodles cook extra in the sauce and you don't want them mushy.
Don't forget to SALT YOUR PASTA WATER.
While not everyone agrees with RINSING THE PASTA after cooking, in this particular recipe it stops the noodles from cooking and the sauce is created with a texture that pairs perfectly with the rinsed noodles.
A SHARPER CHEDDAR CHEESE will add a stronger cheese flavor.
Pre-shredded cheeses contain additives to keep it from sticking together which affects the way it melts. The sauce is best if you SHRED YOUR OWN CHEESES.
Allowing the baked macaroni and cheese to rest for a few minutes after baking will THICKEN THE SAUCE.
Most importantly of all… DO NOT OVER BAKE THIS RECIPE.
ENJOY!!
__________________________________________________________________________________________
I think I need to make this for my son. He is all about the parm.
I just think he needs to eat this. :)
Spaghetti fritters (Frittelle di spaghetti) (About 8-10 small fritters)
Ingredients
7 oz dried pasta cooked as per package instruction
2 cloves of garlic peeled and finely chopped
A handful of fresh flat-leaf parsley finely chopped
2 eggs
1 egg yolk
2 handfuls of freshly grated parmesan cheese
Crumbled sea salt and freshly ground Black pepper
Olive oil
Optional:
4 oz of bacon or pork belly and/or 2 anchovies diced into small pieces, roughly chopped
Red pepper flakes
Instructions
If you choose to use bacon or pork belly, let them fry in the pan without oil until cooked through and somewhat crispy. Save the oil to pan fry the spaghetti later
Put all your ingredients, apart from the spaghetti and olive oil, into a bowl and mix together. Add your spaghetti to a pan of salted, boiling water and cook as per package instruction. Drain the pasta in a colander and rinse under cold water to cool it down. Once the pasta is cool, snip it with kitchen shears (scissors) into pieces roughly 3 inches long and add them to the bowl. Mix everything well
Pour a little oil into a pan and place on the heat. Then, using a fork, add piles (as big or as small as you like) of the spaghetti mixture to the pan and fry until golden and crisp on both sides. It's delicious to fry the fritters in a slightly hotter pan so they become really golden on the edges but are a bit softer and warm inside. Sprinkle with sea salt before serving and some red pepper flakes if you like______________________________________________________________________________________
Chicken done deliciously!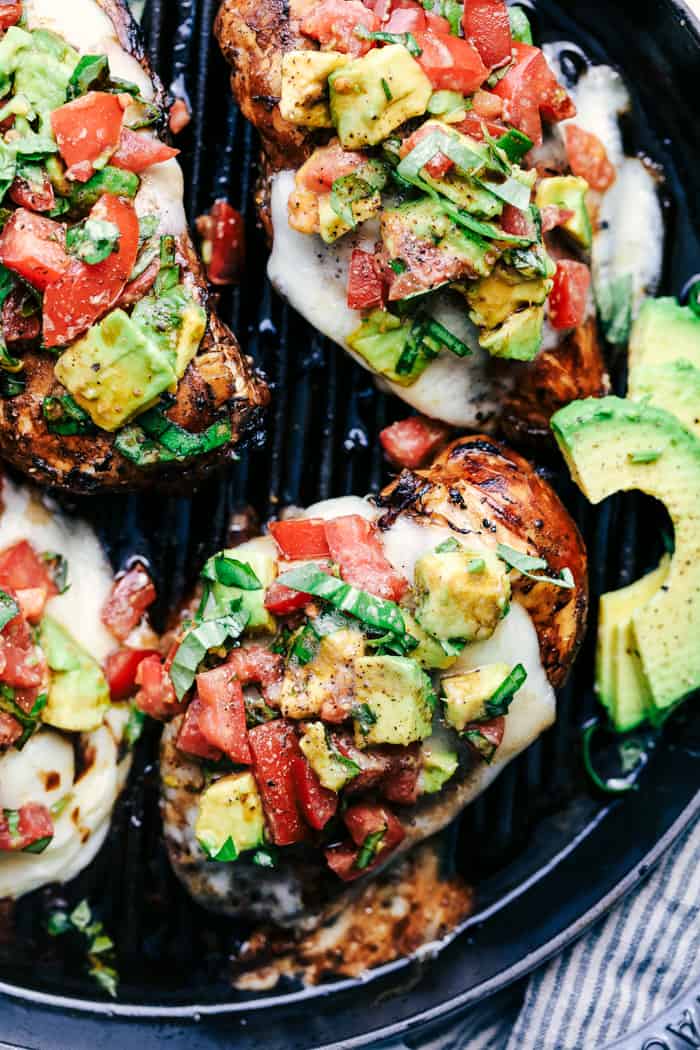 INGREDIENTS
¾ cup balsamic vinegar
¼ cup honey
3 cloves garlic, minced
2 Tablespoons olive oil
2 teaspoons italian seasoning
½ teaspoon salt
¼ teaspoon pepper
4 boneless skinless chicken breasts
4 slices mozzarella cheese
2 avocados, diced
3 roma tomatoes, diced (any tomato will work)
¼ cup fresh chopped basil
salt and pepper
balsamic vinegar for drizzling (optional)
INSTRUCTIONS
In a medium sized bowl whisk the balsamic vinegar, honey, garlic, olive oil, italian seasoning, and salt and pepper. Add the chicken breasts and coat. Marinate for 30 minutes.
Meanwhile, in a small bowl add the avocado, tomato, basil and salt and pepper to taste. Set aside.
Heat the grill to medium high heat. Grill the chicken on each side about 6 minutes or until cooked throughout and no longer pink. Top with mozzarella cheese and avocado, tomato basil mixture. Drizzle with balsamic vinegar and serve immediately.
ENJOY!
_________________________________________________________________________________________________
Well. How pretty is THIS?
6 large bell peppers, any color
1 lb. 93% Lean ground turkey
1 16 oz. jar crushed tomatoes
1 teaspoon Italian seasoning
1 1/2 cups sharp cheddar cheese, shredded
Cut off the tops of the peppers remove the seeds, trim the bottoms to help them sit flat in the skillet and rinse thoroughly. In a large pan boil the peppers for 5 minutes, remove from water and turn upside down onto a paper towel to dry.
Preheat oven to 350 degrees
In a large skillet add the olive oil, garlic and onion, saute until tender. Add the turkey and brown until thoroughly cooked.
Add the crushed tomatoes, rice, Italian seasoning, salt, pepper and 1/2 cup of the shredded cheese and stir until blended.
Fill the peppers evenly with the mixture, place in a lightly greased 10 inch cast iron skillet. Bake uncovered for 25 to 30 minutes. Remove and add the remaining cheese to the top of peppers and bake for an additional 5 minutes or until the cheese is melted.
_______________________________________________________________________________________________
I have to post this. It's too weird not to. Kids, BALOGNA CAKE. YES, balogna cake. dear god.....
Le Recipe. (If you must):
For cake:
Ingredients
12 ounces good quality bologna, sliced
12 ounces room temperature cream cheese (one and one half blocks)
½ package dry ranch salad dressing mix
For cheddar cheese frosting:
8 oz cream cheese, softened
1/2 cups cheese whiz
1 cup ritz cheese crackers
Directions:
For cake:
In a medium bowl and with a spatula combine the dry ranch dressing mix with cream cheese until well blended.
Place the first slice of bologna on a medium serving plate. Spread about a teaspoon of the cream cheese mixture evenly over the top of the bologna. Place another slice of bologna on top and repeat until all of the bologna slices have been used.
Spread the remaining cream cheese over the top and sides, as if icing a real cake. Pipe Cheddar cheese frosting around the base of the "cake" and around the upper rim. Garnish as desired with olives, parsley or green onions.
For cheddar cheese frosting:
Place ritz crackers in food processor until crackers become powder.
Whip cream cheese with hand mixer until fluffy, add cheese whiz and cracker powder; mix until combined.
Fill piping bag and decorate cake!
oy.
______________________________________________________________________________________________
Mexican! That's all you have to say at my house. "Mexcian!" And they are lining up at the door ready to go eat. BUT, let's save some money and make this at home!
Ingredients:
1 lb. extra-lean ground beef
1-1/2 cups Mexican Style Shredded Four Cheese, divided
1 pkg. (1 oz.) TACO BELL® Taco Seasoning Mix
1 cup long-grain white rice, uncooked
1 cup frozen mixed vegetables (carrots, corn, peas)
1 can (14.5 oz.) no-salt-added diced tomatoes, undrained
1 cup TACO BELL® Thick & Chunky Medium Salsa
1 cup fat-free reduced-sodium chicken broth
Directions:
Heat oven to 375ºF.
Brown meat in large nonstick skillet; drain. Return meat to skillet.
Reserve 1 cup cheese for later use. Add remaining cheese and all remaining ingredients to meat; mix well.
Spoon into 13x9-inch baking dish sprayed with cooking spray; cover.
Bake 40 to 50 min. or until rice is tender. Top with reserved cheese; bake, uncovered, 5 min. or until melted
_______________________________________________________________________________________________
Summer Corn Salad. When it's this hot, cool foods are the way to go!
Summer Corn Salad
Serves: 4
Ingredients
3 tablespoons olive oil, divided
1 tablespoon lime juice
¼ teaspoon salt
1½ cups fresh or frozen corn, thawed
1½ cups cherry tomatoes, halved
½ cup finely chopped cucumber
2 tablespoons minced fresh basil
⅓ cup crumbled feta cheese
2 tablespoons Italian dressing (optional)
Instructions
Whisk together 2 tablespoons of oil, lime juice, and salt in a small bowl and set aside.
Cooking corn in a skillet with remaining oil until tender.
Pour corn into a large bowl, cool slightly and add tomatoes, cucumber, and basil. Refrigerate until ready to serve.
Right before serving, drizzle with dressing, feta cheese and Italian dressing (if desired). ENJOY!___________________________________________________________________________________________
I made a variation of this last night. DELICIOUS! Click the photo for the how-to:
Can this be true? Only 8 Smart Points? I'm sharing this not because it is Weight Watchers friendly, I'm sharing this because it looks so good! I was looking for a way to do Hawaiian Loco Moco (Beef patty and gravy over rice with a fried egg on top) and found this. I could make this over the rice instead of the potato and skip the fried egg? You can too! Or eat this over that yummy looking potato in the photo. Carry on my friends! Click the photo for the how-to:
_____________________________________________________________________________________________
When you're on Weight Watchers and everyone is getting fast food. DON'T PANIC. Just print this list and keep it handy. It's surprising what you can get!
Click the photo for the list:
______________________________________________________________________________________
Scahlup puhtatiz. That's what my friend's mom said we were having with our ham. This was in Ohio. Ohioans have a unique little accent all their own. I miss it. Anyway, THIS is what she was talking about I finally found out. Scalloped Potatoes! Delish! Why scalloped? I dont even know. Doesn't matter. Make this and live a life fulfilled.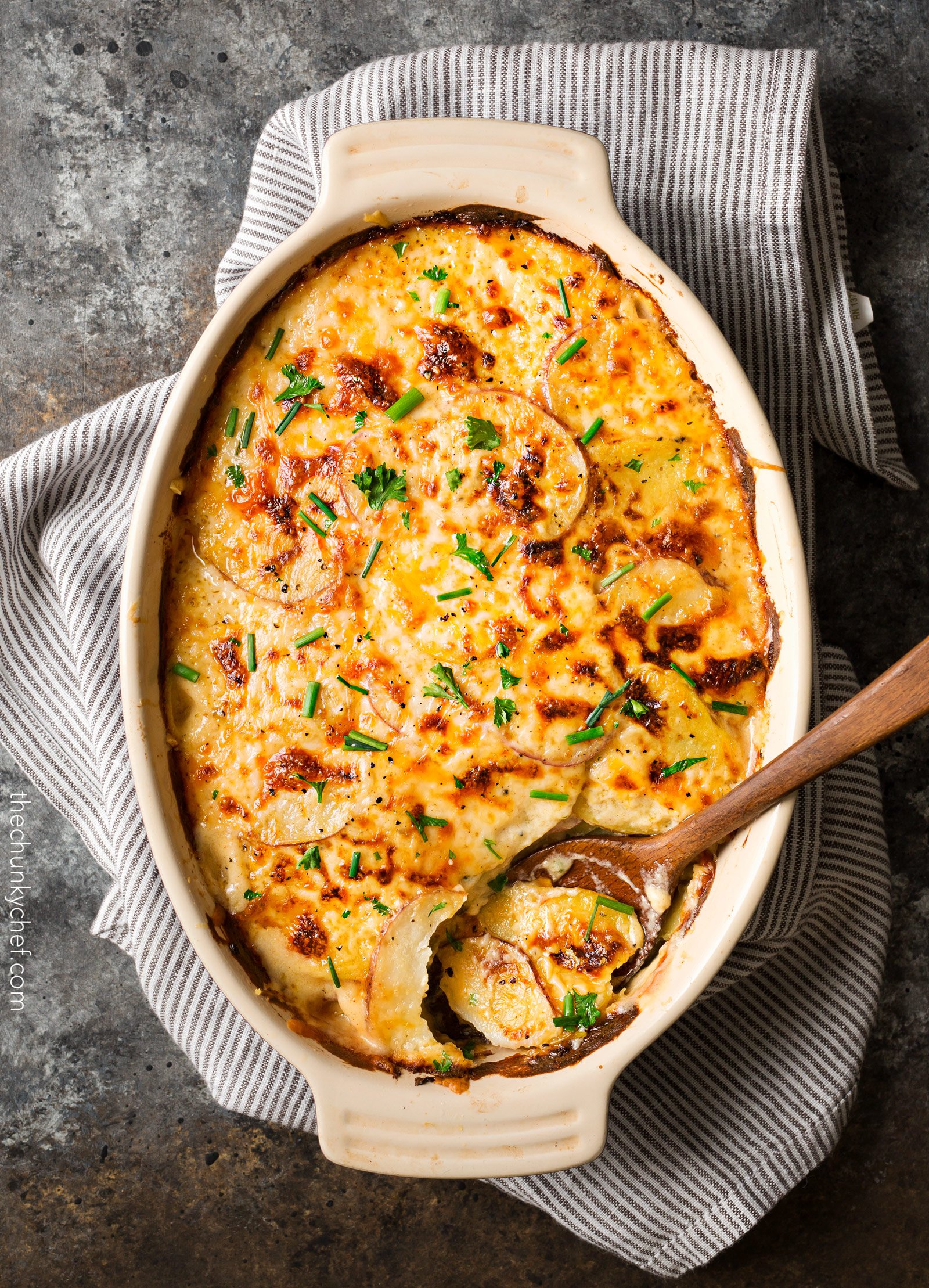 INGREDIENTS
1 1/4 lbs red potatoes, washed, but not peeled
1 1/4 lbs Yukon gold potatoes, washed, but not peeled
1 onion, sliced thinly
3 Tbsp butter
3 Tbsp all purpose flour
2 cloves garlic, minced
1 tsp dry mustard
1/4 tsp dried thyme
1/4 tsp paprika
salt and pepper, to taste
2 cups whole milk
1 cup cheddar cheese shredded
1/2 cup gruyere cheese shredded
1/4 cup Parmesan cheese grated
fresh chives, for garnish
fresh parsley, for garnish
additional 1/4 cup cheddar cheese, shredded
additional 1/4 cup gruyere cheese, shredded
additional 2 Tbsp Parmesan cheese, grated
INSTRUCTIONS
Preheat oven to 400 degrees F. Butter a 2 quart casserole dish and set aside.
Slice potatoes in 1/8" thin slices (I use this mandoline slicer), and set aside.
Add butter to medium saucepan, and heat over MED heat. When butter is melted, add garlic and saute for 1 minute, until fragrant. Add flour, whisk, and cook 1 minute. Slowly add milk, whisking continuously, until no lumps remain. Whisk over MED heat until mixture is thick and coats the back of a spoon.
Turn off heat, add cheeses, dry mustard, thyme, paprika, salt and pepper, and stir until smooth.
Layer half the potatoes and onion slices in prepared casserole dish, pour approximately half of the cheese sauce over potatoes and let sit for a minute. Repeat with remaining potatoes, onions, and cheese sauce.
Sprinkle top of potatoes with gruyere, cheddar and Parmesan. Spray aluminum foil with cooking spray, then cover the casserole dish (sprayed side down). Place casserole on a baking sheet and bake for 60 minutes.
Remove foil and bake uncovered an additional 25-30 minutes. Potatoes should be tender and cheese melted. Broil on HIGH for a minute or two for extra browning and crispiness.
Sprinkle top with chives and parsley and serve.
________________________________________________________________________________________
Pineapple pancakes with coconut syrup? Save me a seat!!
Ingredients
1½ cups crushed pineapple
¼ cup sugar
2 teaspoons baking powder
1 teaspoon baking soda
½ teaspoon salt
2 eggs
¼ cup butter, melted
1½ cups all-purpose flour
½ cup butter
1 cup sugar
1 cup coconut milk
1 teaspoon vanilla
Instructions
In a large mixing bowl, make the pancake batter by stirring together crushed pineapple, sugar, baking powder, baking soda, salt, eggs, and melted butter. Slowly add in flour until you have a nice batter. You want it to remain thin enough to spread slightly, without being runny.
Heat a heavy flat nonstick griddle or skillet over medium-high heat. Pour pancake batter in ¼ cup scoops onto the griddle or skillet. When bubbles start to form on top, flip and cook on the other side until lightly browned. Keep warm until serving (a 200 degree oven and a cookie sheet works great for this).
Make the syrup by melting butter in a medium-size saucepan over medium heat. Stir in sugar, coconut milk, and vanilla. Bring to a boil over medium-high heat and simmer 4 minutes. Store in a heat-safe airtight container in the refrigerator.
Serve pineapple pancakes warm with warm coconut syrup.
___________________________________________________________________________________________
Turn up the metabolism with THESE healthy foods! Click the graphic below to lean more!
_________________________________________________________________________________________
Firecracker Chicken!
Baked Firecracker Chicken
Prep Time: 5 minutes
Cook Time: 25 minutes
Total Time: 30 minutes
Servings:

4
Sweet and spicy baked chicken that is both packed with flavour and nice and light!
Ingredients

1/2 cup hot/chili sauce (such as Frank's Red Hot or Sriracha)
1/2 cup brown sugar or honey
1 tablespoon soy sauce
1 tablespoon cider vinegar
2 cloves garlic, grated
1 pinch red pepper flakes
1 tablespoon oil
1 pound boneless and skinless chicken breasts
salt and pepper to taste
Directions
Heat the hot sauce, sugar, soy sauce, vinegar, garlic and chili pepper flakes in a small sauce pan until the sugar has melted into the sauce.
Heat the oil in a large oven safe skillet over medium-high heat, season the chicken with the salt and pepper, add to the pan and brown, about 3-5 minu